Residential Lettings & COVID-19: Market Insights From Our Account Managers
Since the government unlocked the property market on 13th May, we've been contacted by many anxious landlords seeking guidance as they evaluate their post-lockdown property prospects. To provide our readers with some insight into the London rental landscape, we sat down with our Account Managers to get their view on the state of the market and what trends they notice as the sector emerges from lockdown.
The following conversation has been edited and condensed for clarity.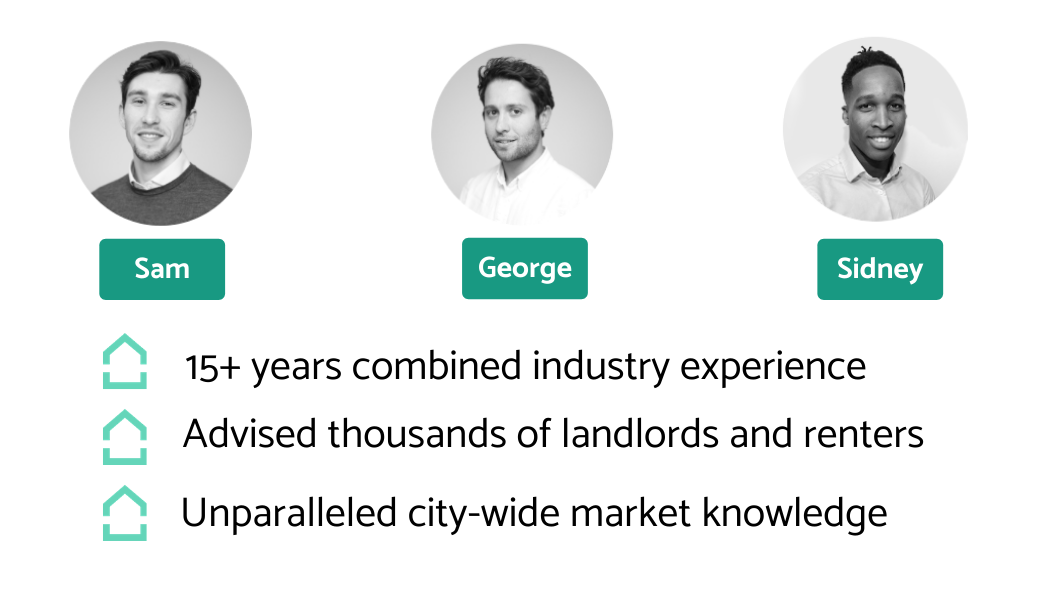 Can you give landlords an overview of what the market looks like as we enter the summer?
George: It goes without saying that this isn't a typical summer. Where we would normally be expecting to enter the lettings peak season with landlords enjoying high pricing leverage, instead we have a slower market where prospective renters can make their budget go further than usual. Of course, London is a diverse market and not every neighbourhood or property type has been impacted equally, but the general trend holds true across the board.
Sidney: There's a lot of uncertainty and anxious renters are trying to mitigate risk wherever they can. For some, this means staying put and renewing their contract at their current place or negotiating an early end to their tenancy and moving back in with their family. For others, when they look to put forward an offer on a property there's strong demand for flexible terms and conditions. People want to know that they can move the start date or break the contract early if their circumstances change.
Sam: I agree - coronavirus and the lockdown has drastically altered the engines of supply and demand. As Sidney said, far more renters are opting to stay put for the time being and either renewing or entering into statutory periodic tenancies. Other usually reliable sources of demand, such as international students and corporate relocations, have also been badly affected for obvious reasons. Additionally, we've seen the total collapse of the short-let industry. This means that airbnb landlords are migrating stock to the long-let market at heavily discounted rates and therefore increasing competition for renters. This is particularly the case for properties in prime central locations.
George: It's definitely tougher out there at the minute, but I would say to landlords that it isn't all bad news. People still need to rent and the re-opening of the market released a lot of pent up demand. By comparison with other industries, the residential property market has been one of the least affected by the pandemic. Offers close to or on the asking price are still very achievable for the right property and we're seeing encouraging signs of growth every week.
Sidney: For sure - the fundamentals of the London market are quite robust. There are also those who are coming out of the lockdown in urgent need of a new place, either for work or personal reasons. Unfortunately, I think a lot of relationships haven't survived the quarantine!
How have renters reacted to the opening of the property market? Have we seen much of a bounce back?
George: It's been a mixed bag so far. There was a 64% spike in our enquiries immediately after restrictions were lifted but things have cooled slightly since. Those with a pressing need obviously looked to move as soon as they could, but generally people are still cautious. We've resumed in-person viewings but renters are quite nervous about making the journey to a property, especially in London where so many of us rely on the bus and the tube. However, as people can shop around at home more effectively with high quality virtual viewings, when they do visit a property there's a much stronger chance that we will receive an offer.
Sam: The week-on-week signs are encouraging. The number of enquiries and offers continues to grow and as lockdown eases more generally, with retail spaces opening to the public and social distancing measures relaxing, people are feeling less anxious about visiting property. It's taking longer for summer demand to recover to typical levels, and I predict that our 'peak period' will start later in the summer but last further into the autumn than it would normally.
Sidney: As I said, people still need to rent so the market hasn't totally cratered but renters expect landlords to be more accommodating. London's renters are sophisticated consumers and many who are venturing back into the market know that they can get a great deal. There's also a lot of goodwill on both sides as everyone recognises that these are extraordinary circumstances and nobody feels the same security for the future as they did pre-covid.
What are renters looking for at the moment? Are any landlords likely to do well despite the slow market?
Sam: Outdoor space and pet-friendly policies are shooting to the top of renter wishlists. After being forced to spend so much time indoors people have really come to value access to outdoor space, particularly gardens, as key to their wellbeing. Any property with a garden, balcony, roof terrace, or close proximity to a park should manage to do well as we emerge from lockdown, particularly as this is at a premium in London. The past few months have also been pretty lonely for a lot of people, so more renters are looking for companionship in the form of a dog or cat. Any landlord willing to be flexible on their pets policy should have an easier time letting their property. It's also worth remembering that renters with pets tend to stay at a property for much longer than those who don't - around 80% longer according to our data team.
George: I've noticed that more people are enquiring on properties in a lower price bracket than what someone with their salary could normally afford. A lot of renters are looking to downsize in case their incomes are squeezed, so properties at the mid-to-lower end of the market should benefit from movement away from more expensive property in pricier neighbourhoods. Others are having to relocate to cheaper property because they can no longer afford their current accommodation.
If your property is close to good cycling infrastructure it makes it more attractive. Good public transport links alone aren't as effective as a selling point anymore.
Sidney: Further to George's point, renters aren't stretching their budget in anticipation of annual pay rises or bonuses as they normally might either. In the summer we often see people willing to go slightly beyond their original bottom line to get their top choice property in a crowded marketplace. People aren't willing to take the same risks and will compromise on their search criteria rather than commit to extra monthly spending. It's also a renters' market and people know they stand a good chance of ticking all their boxes elsewhere thanks to the lack of competition.
What advice would you give to landlords looking to secure their asset over the coming months?
George: I think the main thing is to be prepared to compromise. A lot of landlords are going to have to accept lower rent, higher risk, or both. With so much economic uncertainty renters are feeling less confident about their long-term finances and won't enter into a contract unless they know there's a way out if their income takes a big hit.  
Sam: As we've already discussed, demand overall is significantly lower so there's a lot of downwards pressure on pricing. People are also trying to cut costs where they can and aren't willing to spend as much on rent. If you can get a reasonable offer from good tenants it's worth snapping it up even if it's below asking price. You're at greater risk of getting trapped in a lengthy void period and this will hit you in the wallet more than lower rent.
We're yet to really see the full extent of the recession caused by COVID-19 and it's likely to be a renters' market for the foreseeable future. More people are probably going to be made redundant as the furlough scheme winds down and this will depress demand further. It's important to follow the market closely as things can change very quickly and it's highly unpredictable.
Sidney: You can take proactive steps to protect yourself in the event that your tenants fall into arrears. A rent guarantee insurance policy will pay out if your tenants are unable to cover the rent. Thorough referencing is also more important than ever, as we know that bad actors try to exploit slower markets to acquire rental properties. We saw a similar situation last year, where we caught out a number of fraudulent applications when the market was impacted due to uncertainty caused by stalling Brexit negotiations.
Sam: If you have good tenants, it is worth renewing even if they can't quite afford the current rental price. If you can afford it, it's better long term to drop the rent 5-10% and support people that you know will take good care of the place than risk the uncertainty of advertising for let when there's no guarantee you will achieve any higher rent and there's the risk of lengthy voids.
George: Circling back to the first question, market conditions aren't ideal but it isn't doomsday either. People are still enquiring and looking to move and if you're offering renters outdoor space and flexible terms you're in a strong position. There are plenty of deals to be done and we're doing everything we can to chase them. However, you might need to make some short-term compromises to protect the future of your investment.
---
At Home Made, we offer a hybrid lettings solution that adds value at every stage of the rental process. With our game-changing new landlord platform, The Property Wallet, we offer London landlords exceptional tenant-find and property management services for a low monthly fee.
Avoid expensive upfront fees and spread the cost of marketing your property with the option to pay monthly.
Free rent collection and arrears chasing.
Sign off and see all charges and payments in your dashboard.
Real-time updates on marketing, viewings, and offers.
Prices start from just £50+VAT/mo for tenant-find and £60+VAT/mo for management. Alternatively, you can pay a one-off upfront fee of £1,200+VAT for our tenant-find service.
If you would like to speak with us about your property needs, contact us via our website to find out how we can help. If you're ready to get started, book your free valuation here.
Book valuation
Check out more of our landlord advice here and follow us on Twitter, Linkedin, and Instagram for regular updates on industry compliance standards, market insights, and Home Made company news.