New year, new property management: Molly McParland on disrupting the industry
Our new strategic projects lead, Molly McParland, explains what motivated her to join Home Made and help us to reinvent property management in 2021.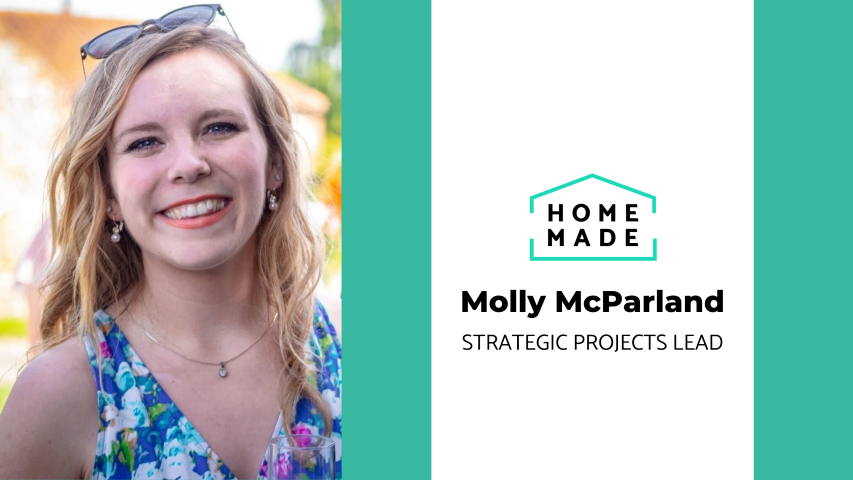 Two months ago, I jumped at the opportunity to work with Home Made, an award-winning proptech company, to re-imagine the property management experience for renters and landlords. Meeting with the Home Made team, we discussed how, with modern technology, training, and operating structures, there is no reason that common problems in the property management industry should persist. Inspired by Home Made's success in making the letting process transparent, fair, and easy, I am very excited by the prospect of disrupting the management sector with the same winning formula: exceptional customer service, smart technology, and fair fees.
I started my career in risk and strategic consulting before moving to the start up sector with the goal of creating business services to improve people's lives. I have spent years building processes, teams, and customer success strategies at scaling technology companies. Most recently, I worked in the international hotels and hospitality sector at one of the world's fastest-growing startup hospitality brands.
Working with hotel management operations and systems piqued my interest in the management of residential properties. How do companies create a reliable and warm 'customer experience' for consumers as renters over a sustained period of time, rather than just as tourists for the weekend?  How can the principles of great hospitality be applied to a place that someone calls home? This curiosity only became stronger in 2020, when having a safe, secure, and comfortable home felt more important than ever before.
For thousands of residential properties across the UK, management is performed by property management companies, who are employed by landlords to handle day-to-day operations such as maintenance call outs, compliance renewals, and rent collection. Landlords opt to outsource property management to a professional for many reasons:
For peace of mind.
The difficulty of balancing the time-consuming demands of property management with a full-time career.
The logistical challenge of managing a property from overseas.
However it is not hard to find someone, be they a renter, landlord, or property manager, who has had an unpleasant experience with a property management company.
Stories of patchy communication, slow timelines for repair and maintenance works, and expensive remedial charges abound on the customer side, while property managers are too often stretched thin across ever larger and more disparate portfolios. Proptech innovations have created more user-friendly platforms capable of providing interesting data insights, but many parts of the underlying management service have often not been re-imagined for decades.
At Home Made, we are united around the belief that the property management experience should be reinvented: not only can the north star of the industry be reorganised around the customer, but there is so much room to add new services that will create real value, whether that be helping a renter move in, or providing a landlord with greater financial visibility and advice on how to increase their returns. Moreover, the whole service should be transparent - with no one left wondering what is happening at their property, and our interests and incentives always aligned with solving customers' problems.
Using a combination of data, partnerships, and service integrations, our mission in 2021 is to create a service where landlords and renters feel that not only are they and their home in safe hands, but that they have easy access to valuable information, expert advice, and services to make their rental journey easier and more enjoyable than ever before. I look forward to working with our existing clients and even more great landlords and renters as we grow, and I am always interested in your feedback. If you would like to get in touch with me to discuss our property management services, please reach out to me here.
---
You can visit our landlord's page to learn more about our services. If you would like to speak with us about your property needs, contact us via our website to find out how we can help.
Check out more of our landlord advice here and follow us on Twitter, Linkedin, and Instagram for regular updates on industry compliance standards, market insights, and Home Made company news.