Fully furnished apartments to rent in London
There are many fully furnished apartments to rent in London that offer the highest living standards for their residents. For those wishing to find their next fully furnished home, you have come to the right place!
Across London there are plenty of different developments that offer a range of options in regards to style, shape, characteristics, and comfort. Renting fully furnished also has many benefits for the tenant -  it's cost effective and far easier to move between properties without lugging furniture across the city!
As there are many to pick from that offer this perk, we have listed some of our favourite fully furnished developments with properties available to rent in the capital right now.
Great West Plaza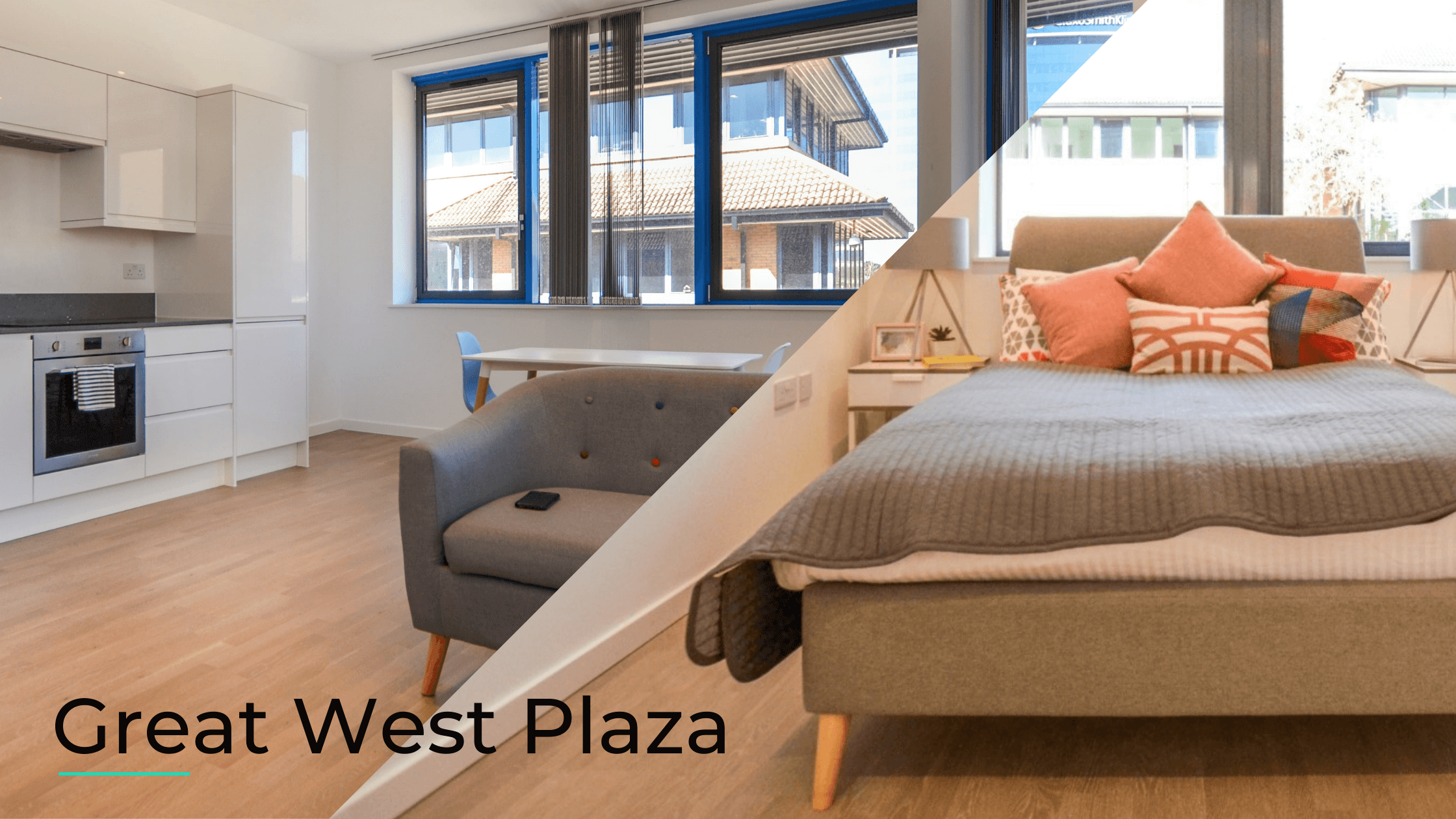 Great West Plaza has a selection of studios, 1 and 2 bedroom apartments, all fitted and finished to an exceptional standard. As well as luxury apartments, residents will also benefit from: off-street parking (available on request), secure bike storage, concierge service, and 24/7 security. If that isn't enticing enough, a resident-only gym will also be opening at the end of 2021.
Located in Brentford and overlooking the canal, Great West Plaza offers something for everyone, from the diverse range of local shops, pubs and restaurants,  to plenty of sporting and outdoor activities for those who enjoy an active lifestyle. Brentford Lock Canalside is the ideal place to while away an hour or two watching the boats, walking along the tow paths,  or cycling to Richmond or Osterley. Brentford Station is a 4 minute walk away and provides excellent transport links to take you into the centre or on journeys out of London.
Interior, decorations and design: A modern and spacious feel throughout with a minimalistic and stylish yet functional furniture pack. Perfect for both home working and lounging in comfort.
To see a full list of our available properties at Great West Plaza, please click here.
Hill House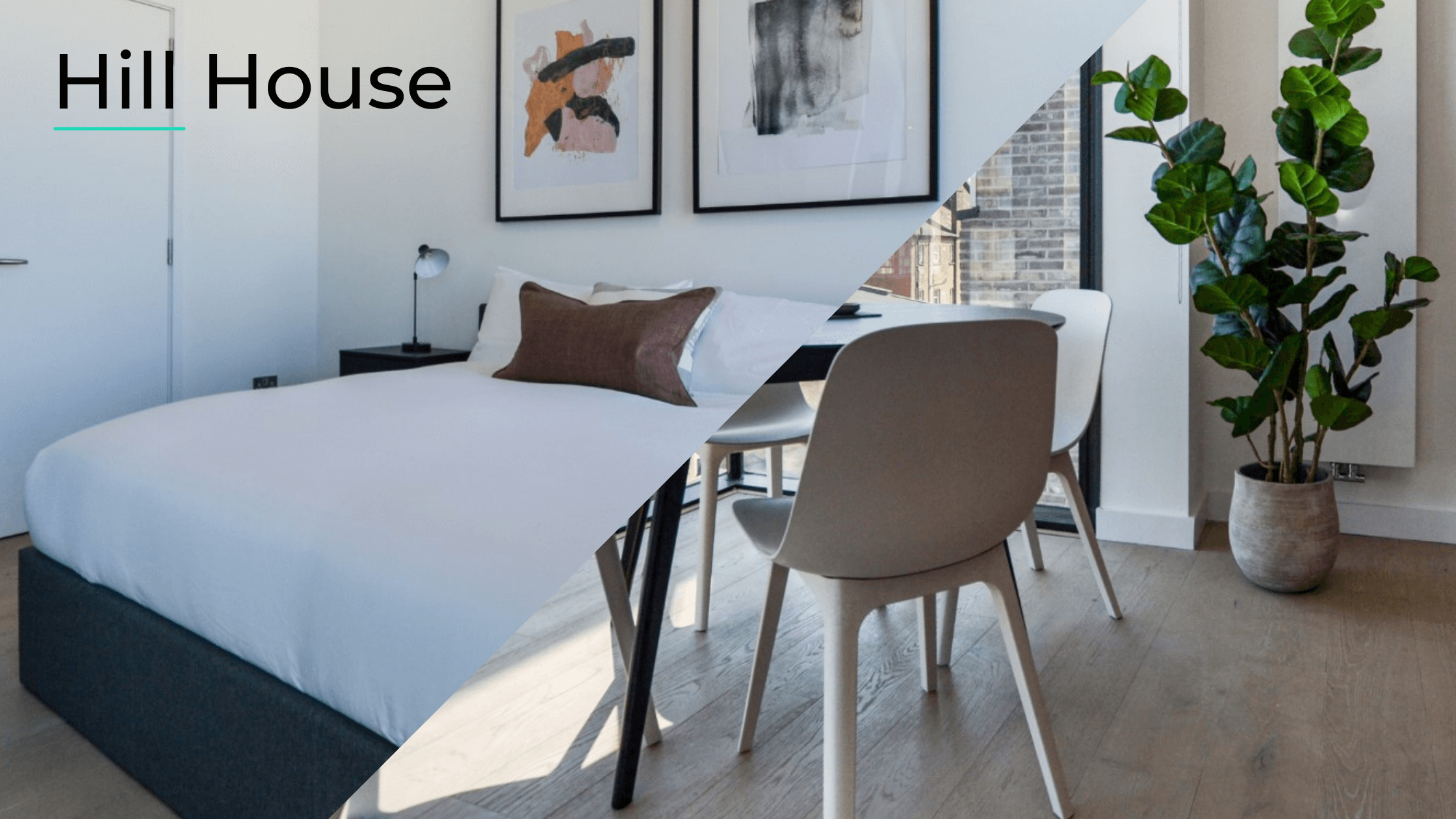 Hill House is a modern development located in the vibrant area of Archway. With all utility bills included in the rent, an on-site management team, concierge service, bike storage, communal workspace,  and a roof terrace, Hill House prides itself on offering high-class, sophisticated living quarters set within an increasingly trendy part of the capital.
Archway and Highgate are names that are familiar to many, even for those outside of London. The area boasts excellent activities for all ages - whether it be shopping you are after, fine dining on great food from all around the world, or relaxation and exercise in Highgate Wood or Hampstead Heath. The district is the setting of many quirky and fascinating stories, with the Whittington Stone Statue commemorating the spot where Dick Whittington and his cat allegedly heard the bells of Bow Church.
Interior, decorations and design: Clean and contemporary finishes in every area of the development. All apartments benefit from charming and colourful furniture, as well as complimentary house plants included with every property.
To see a full list of our available properties at Hill House, please click here.
Zenith House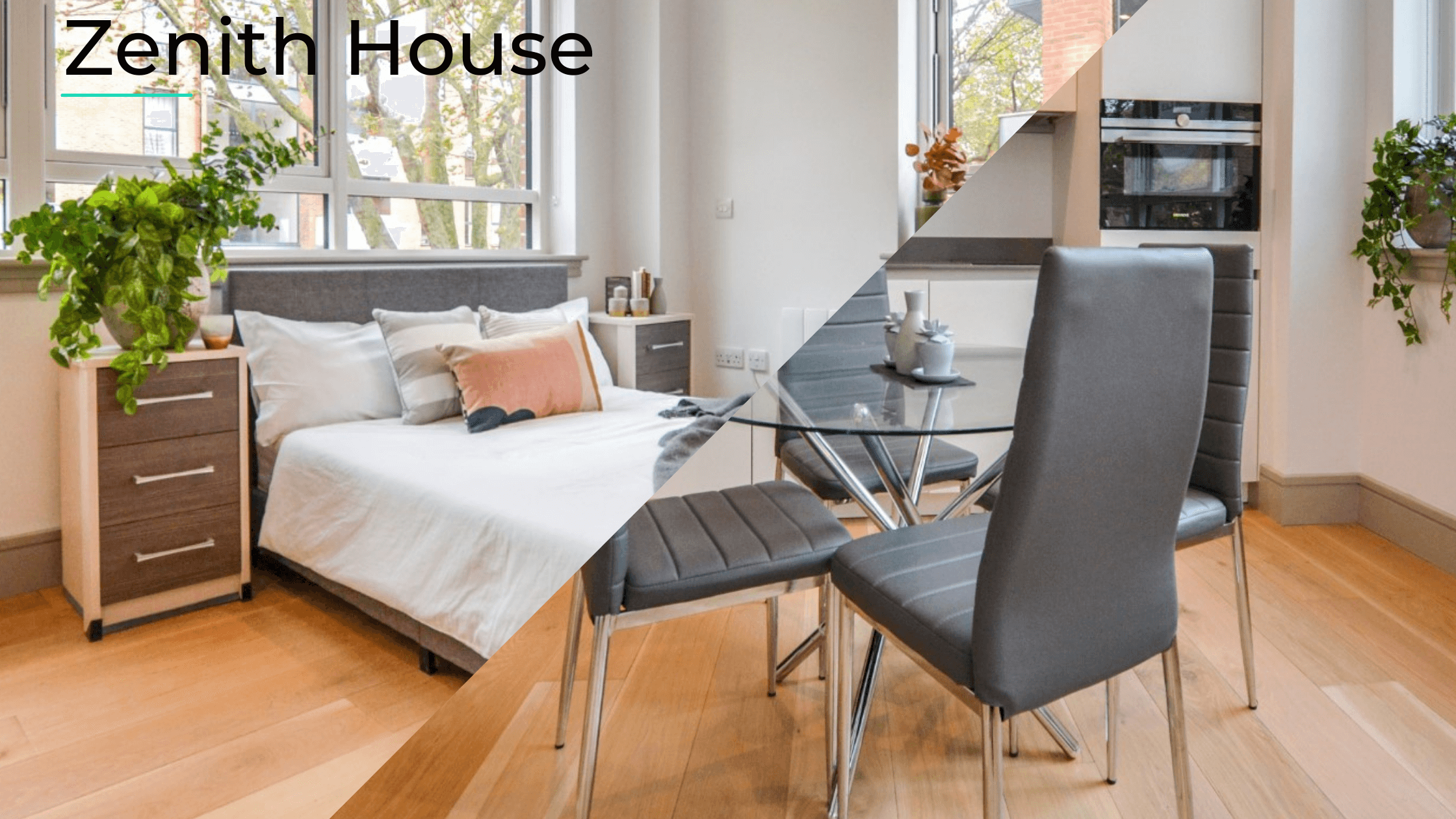 Zenith House offers a variety of high quality, fully furnished apartments located in Seven Sisters. The team behind Zenith House prides itself on the exceptional experience they provide for their residents. Renters at Zenith House enjoy access to car parking (available on request), all utility bills and WiFi included in the rent, and a 24/7 dedicated community management service.  
This bustling neighbourhood with its diverse community has restaurants to cater for every appetite. African, Turkish, Carribean, Chinese, South American, Korean - the list goes on! Walthamstow Wetlands, with its ten reservoirs, are nearby for those keen to get close to nature.
As Seven Sisters is a sub-district of Tottenham, North London, Zenith House could not be better placed for those who wish to explore the rest of the city, or those who have the daily commute into the centre.
Interior, decorations and design: The apartments offer a unique and fashionable furniture pack that is complemented by wall-to-wall windows that allow plenty of light into the rooms. The style is smart but informal, so residents can feel relaxed and cosy in their new home whether they are hosting friends or enjoying some down time.
To see a full list of all our available properties at Zenith House, please click here.
Charter Place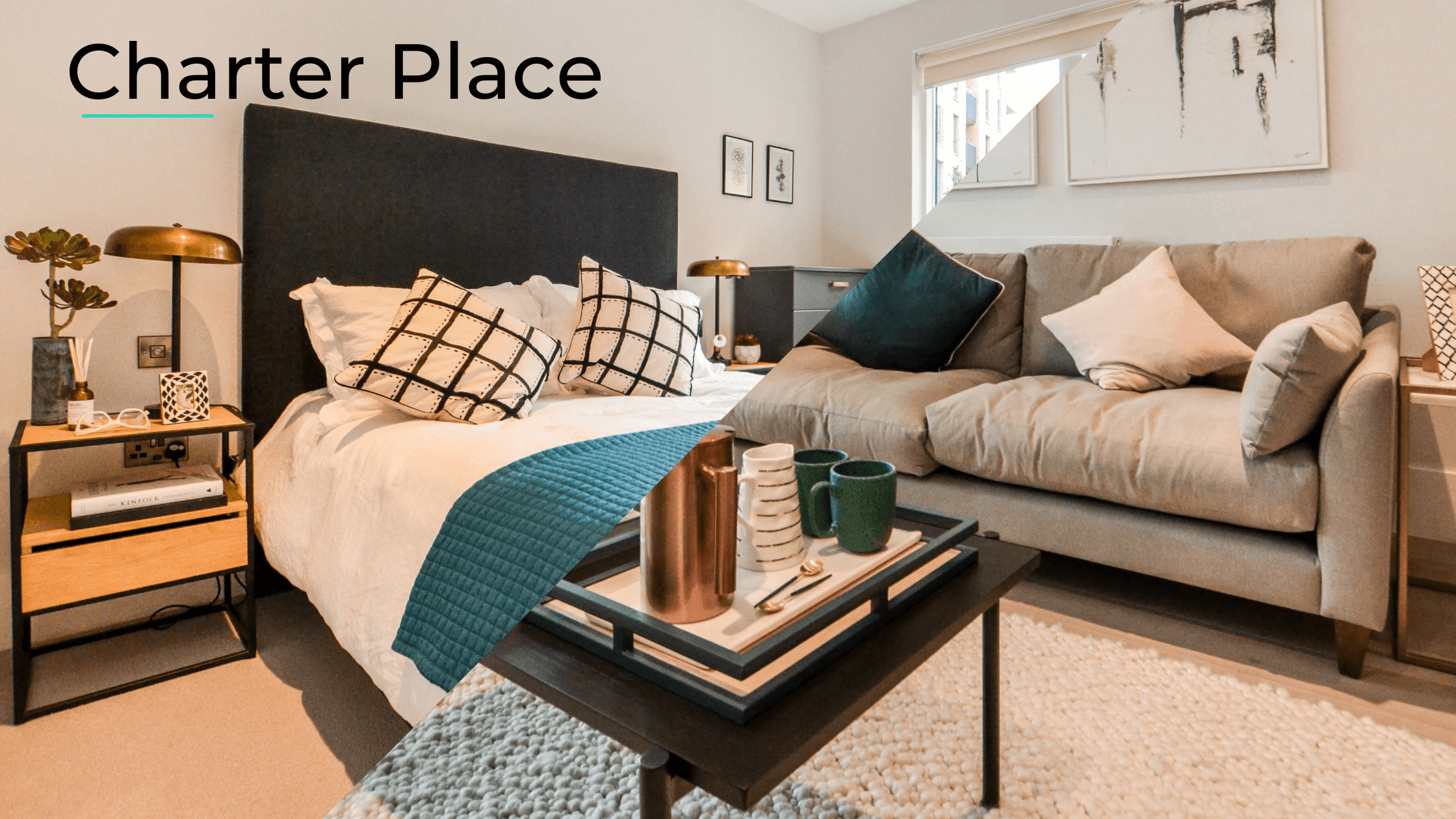 Charter Place is a modern development within the London Borough of Hounslow. The building offers a range of apartments of all sizes, all fully furnished with designer furniture specifically picked to suit every room. Living at Charter Place, you can enjoy access to stunning communal gardens, a gym, residents' lounge, co-working space, bike storage, monthly resident events, and much more.  
One of the capital's largest boroughs and only ten miles from central London, there are a staggering 120 different languages spoken in Hounslow! It is also home to one of the largest nature reserves in the city, the 200 acre Hounslow Heath Nature Reserve, which is home to 132 different bird species. The 36 metre outdoor Hampton Pool is also popular with locals who enjoy an afternoon swim.
Interior, decorations and design: All apartments benefit from a designer furniture pack that is created for high-quality, comfortable living. Quality kitchen appliances are built in, including a Smeg dishwasher and Indesit washing machine.
To see a full list of all our available properties at Charter Place, please click here.
The Well House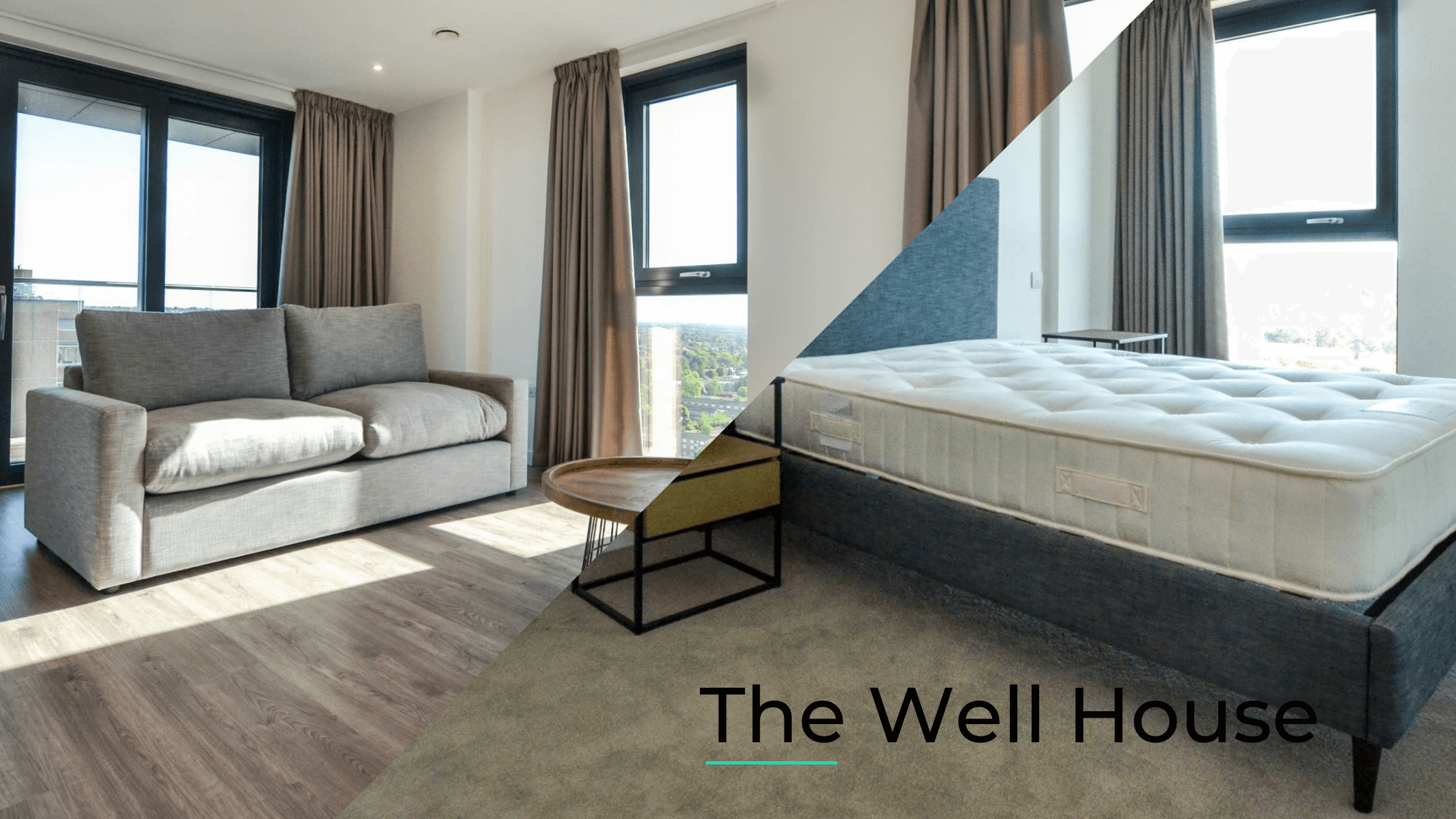 Standing in the heart of Sutton is The Well House. This development offers a selection of furnished luxury apartments and a brilliant location surrounded by parks and green open space. Residents at The Well House have access to two rooftop gardens, a communal workspace, private dining area, on-site management team, resident portal and online course, and a gym that is arriving in 2021.
Known by some as 'leafy Sutton', it is famous for being one of the greenest areas of London and offers residents a way of life that is hard to find in the rest of the capital. Home to many parks and outdoor sporting facilities, including some excellent golf courses, it can be easy to forget you are in one of the most congested cities in Europe. Although this may sound like you'll be marooned on London's outskirts, Sutton High Street is a 2 minute walk away while  Sutton Station - with easy links to Central London - is just 3 minutes away.
Interior, decorations and design: Bosch fitted kitchen appliances and bespoke furnishings throughout the apartments, with a spacious and modern structure. The interior is also perfect for home working, if you need a bit of privacy or an escape from the distractions of the communal workspace.
To see a full list of our available apartments at The Well House, please click here.
Millet Place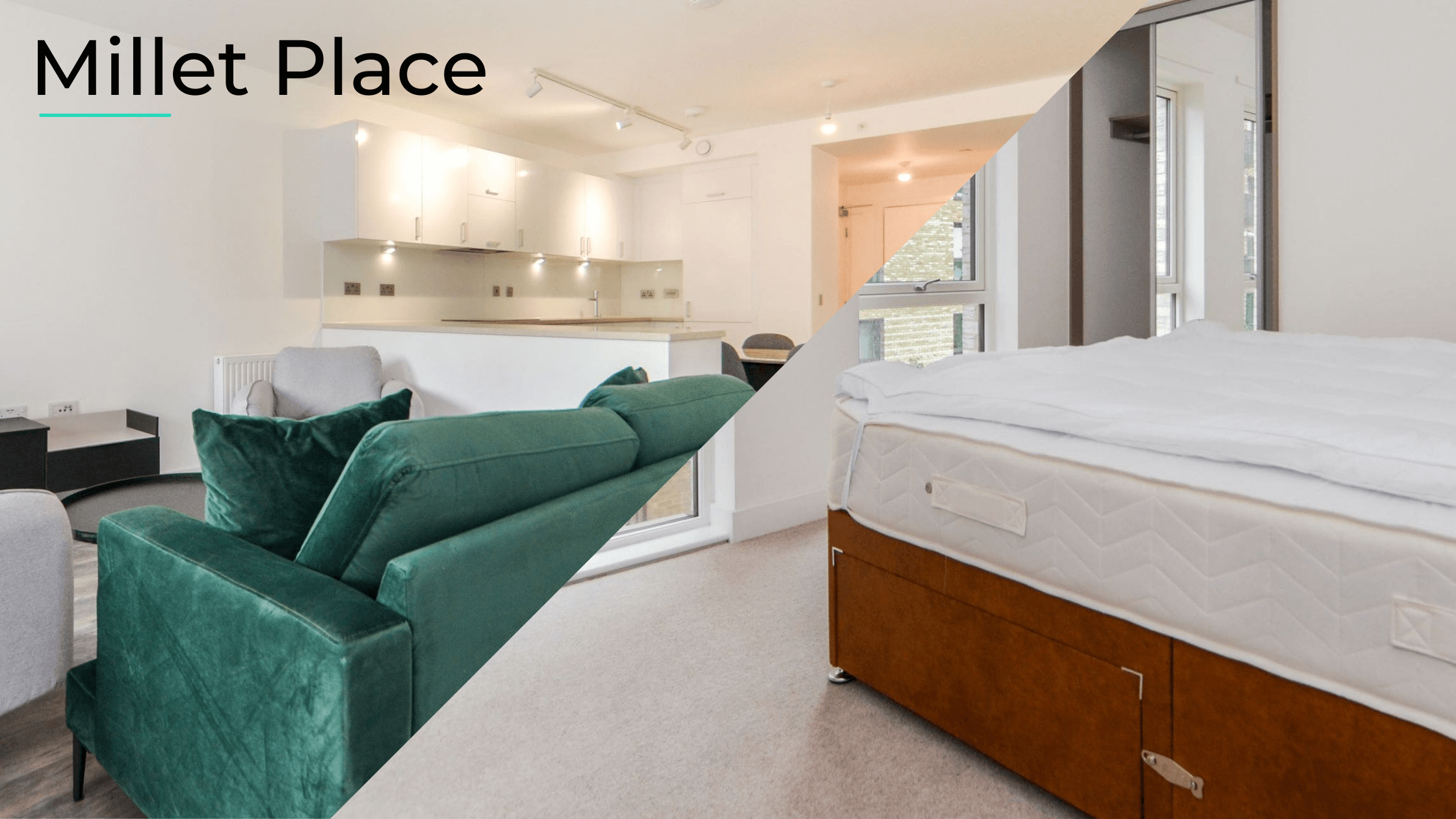 Located in the famous Royal Docks is the exciting, brand new development that is Millet Place. As well as offering fully furnished apartments and a furniture pack with every flat, Millet Place is also surrounded by a wide range of cafes, restaurants, independent eateries and leisure activities. Although there are many new and creative things popping up all the time in this part of London, those who fancy a weekend relaxing at home can enjoy a communal roof terrace (with views over the Thames), communal gardens, cinema, residents lounge, and a co-working space.
London's docklands are the site of one of the largest regeneration projects in the UK, and Millet Place stands right in the heart of it in Royal Docs. If being a stone's throw from the Thames and surrounded by charming marinas and docks isn't appealing enough - Millet Place is within easy walking distance of every amenity you will need to feel comfortable in your new home.
Interior, decorations and design: Although you will find many different layouts available in Millet Place, each apartment is decorated immaculately. Luxury furniture and appliances are included throughout, with an emphasis on colourful, contemporary and comfortable designs.
To see a full list of all our available properties at Millet Place, please click here.
Broad House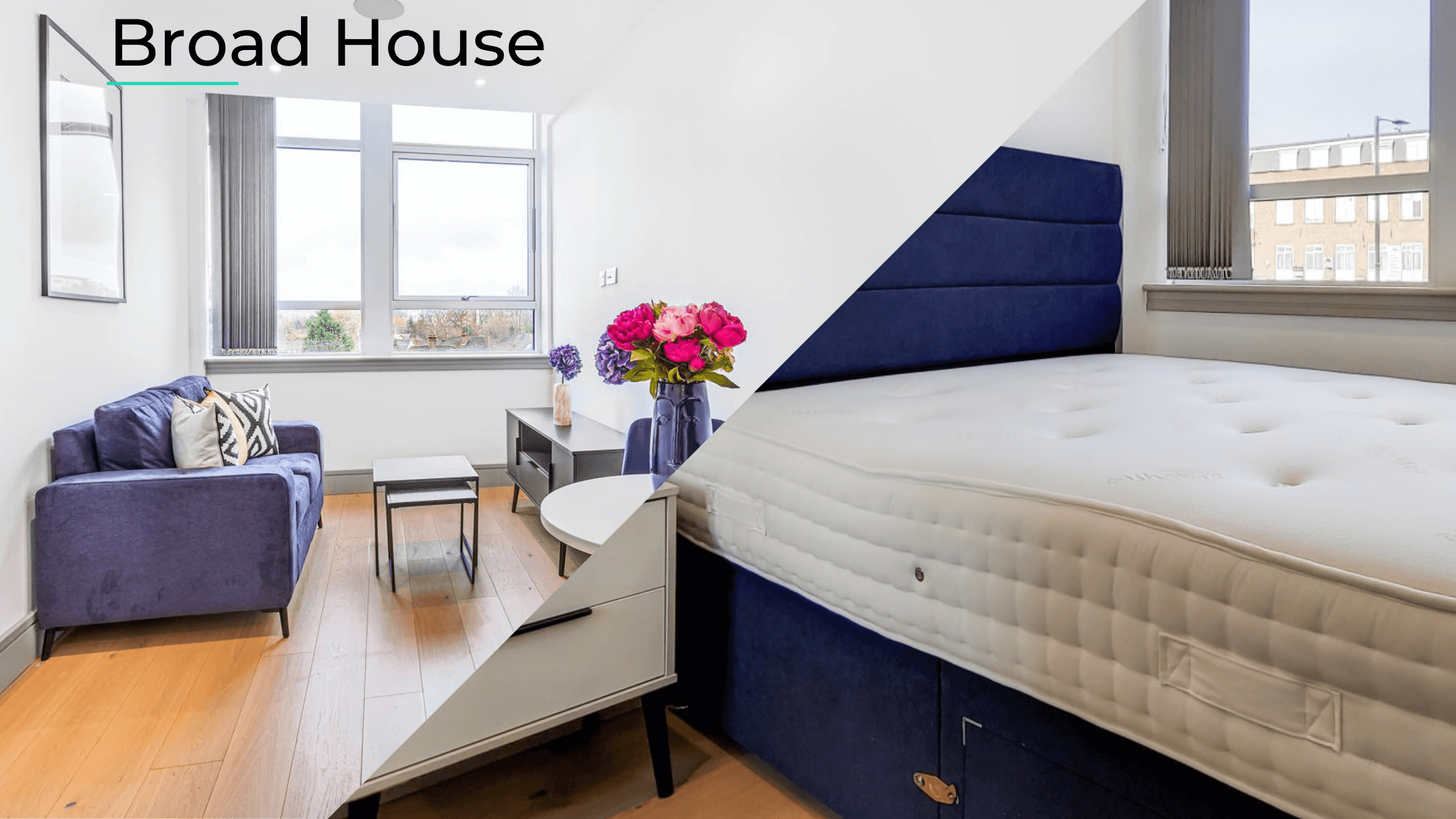 Broad House is a beautiful, modern built development located in Harrow. The development offers a choice of fashionable studios, 1, and 2 bedroom apartments. Living at Broad House comes with access to many great perks, such as one all-inclusive rental and utility bill, professional on-site management, and invitations to free community events such as cheese and wine night.
If it is an interesting location you are looking for in your next move, the historic Borough of Harrow is the perfect stop. Probably most famous for its well-known boys public school, which was the previous stomping ground of many prime ministers, actors and artists, Harrow is much more than just a quiet and historic borough. Walking around the quaint streets you will find an incredible array of stores, historic architecture and eye-catching attractions, making Harrow a big attacration to many. Also be sure to look out for the grade-I listed, 900 year old Church of St Mary's.
Interior, decorations and design: Minimalist in appearance, yet bright and spacious apartments are on offer at Broad House. Vibrant, eye-catching furniture has been selected to furnish the rooms, complemented perfectly with the white walls, clean surrounds and large windows.
To see a full list of our available properties at Broad House, please click here.
Mercantile House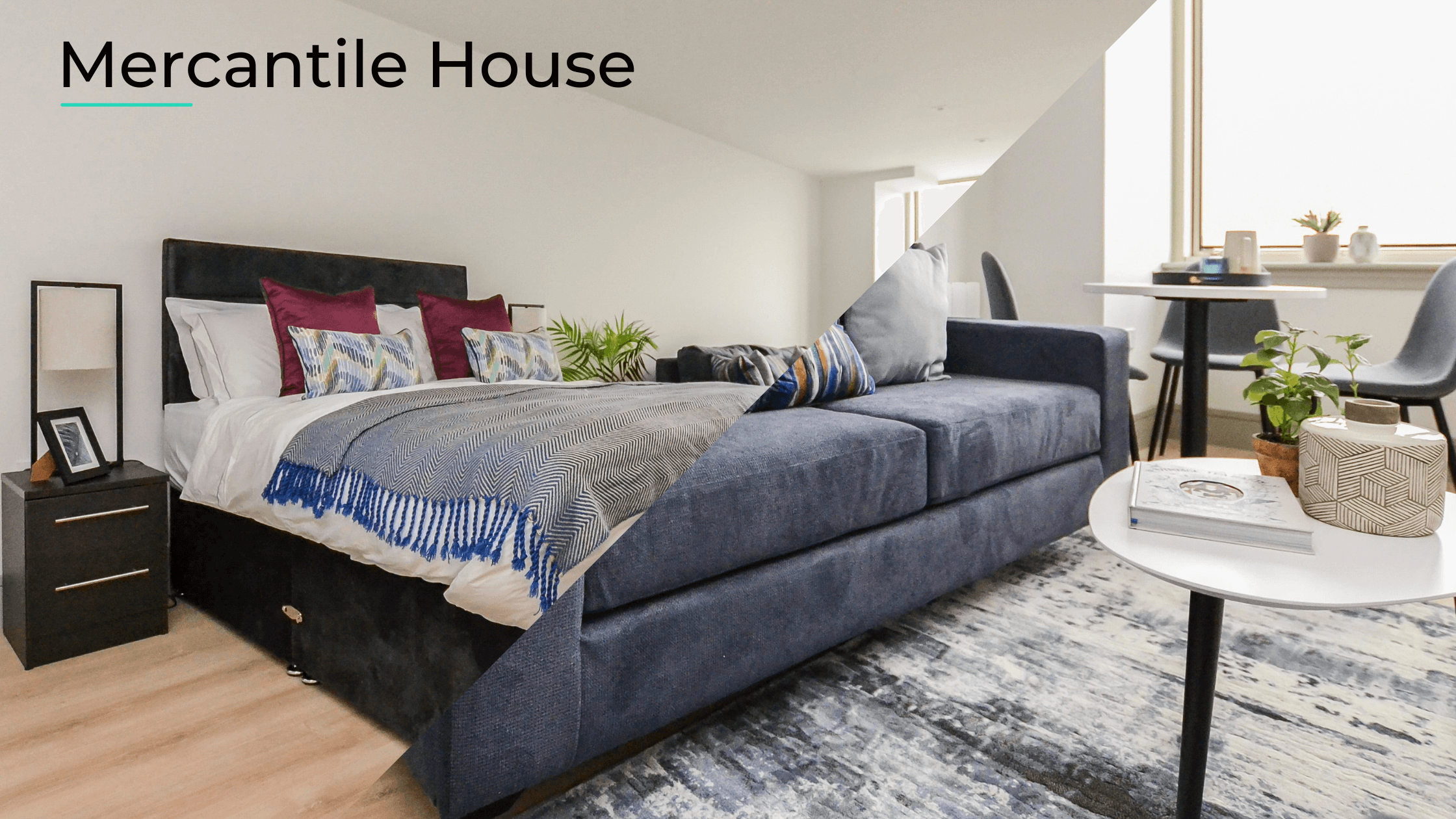 Mercantile House is a brand new development in Uxbridge, which includes 132 premium studio apartments. All studios come fully furnished with a contemporary furniture pack,  and there are excellent amenities across the premises and beyond for residents to utilise, including bike storage, pet-friendly tenancies, and easy access to the Pavilion shopping centre.
Uxbridge is a suburban town in West London, located in the Borough of Hillingdon. Situated a short distance from the Colne Valley Regional Park, Uxbridge offers perks that you struggle to find in many parts of the capital, particularly its abundance of wide open green space. Although out from the centre (approx 35 mins) you do not have to compromise with the standard and convenience of your local amenities, with a host of independent shops, cafes, restaurants and social activities all close by.
Interior, decorations and design: For just £50 per month, residents can enjoy a luxury furniture pack designed by David Philips. The furniture pack includes:  a stylish double bed, sofa, bedside table, built-in wardrobe, and a dining table and chairs.
You can view all available apartments here.
Edgware Hills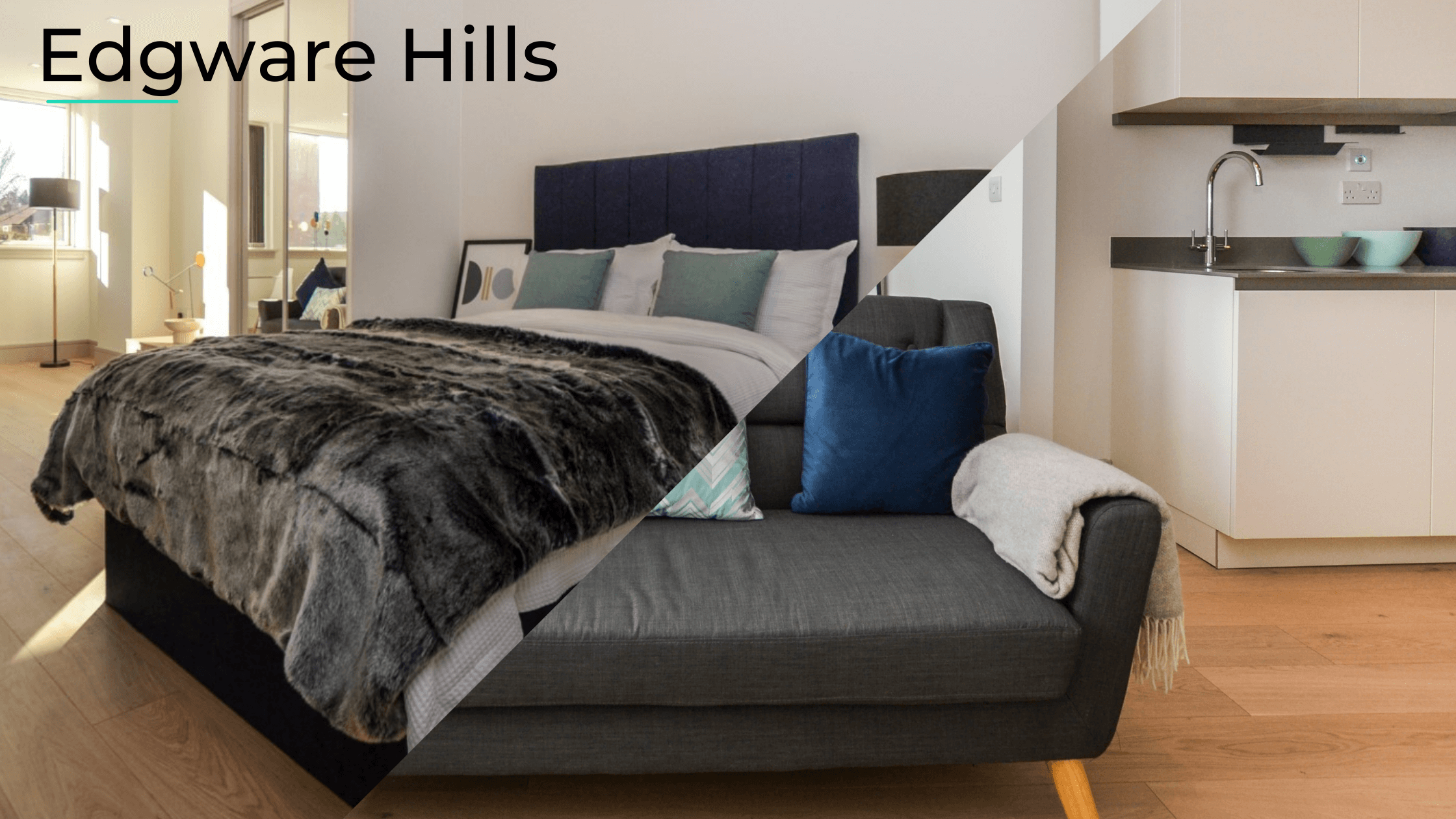 Standing in the bustling and thriving neighbourhood of Edgware is Edgware Hills. Seen as a popular area with families and young professionals, Edgware offers exciting city living in an impressive contemporary development. Boasting a range of studios, 1,  and 2 bedroom apartments, residents will always feel well looked after with a dedicated property management team and site manager.
Situated mostly in the London Borough of Barnet, Edgware is a place with a long and diverse history. With roots dating back to medieval times, and with historic architecture still prominently visible across the borough, Edgware today has become an interesting mix of old and new - with many trendy and fashionable brands and companies now calling it their home.
Interior, decorations and design:  All apartments come furnished or unfurnished and residents can benefit from a bespoke modern furniture package for an extra £50 pcm.
To see a full list of our available properties at Edgware Hills, please click here.
Trinity Walk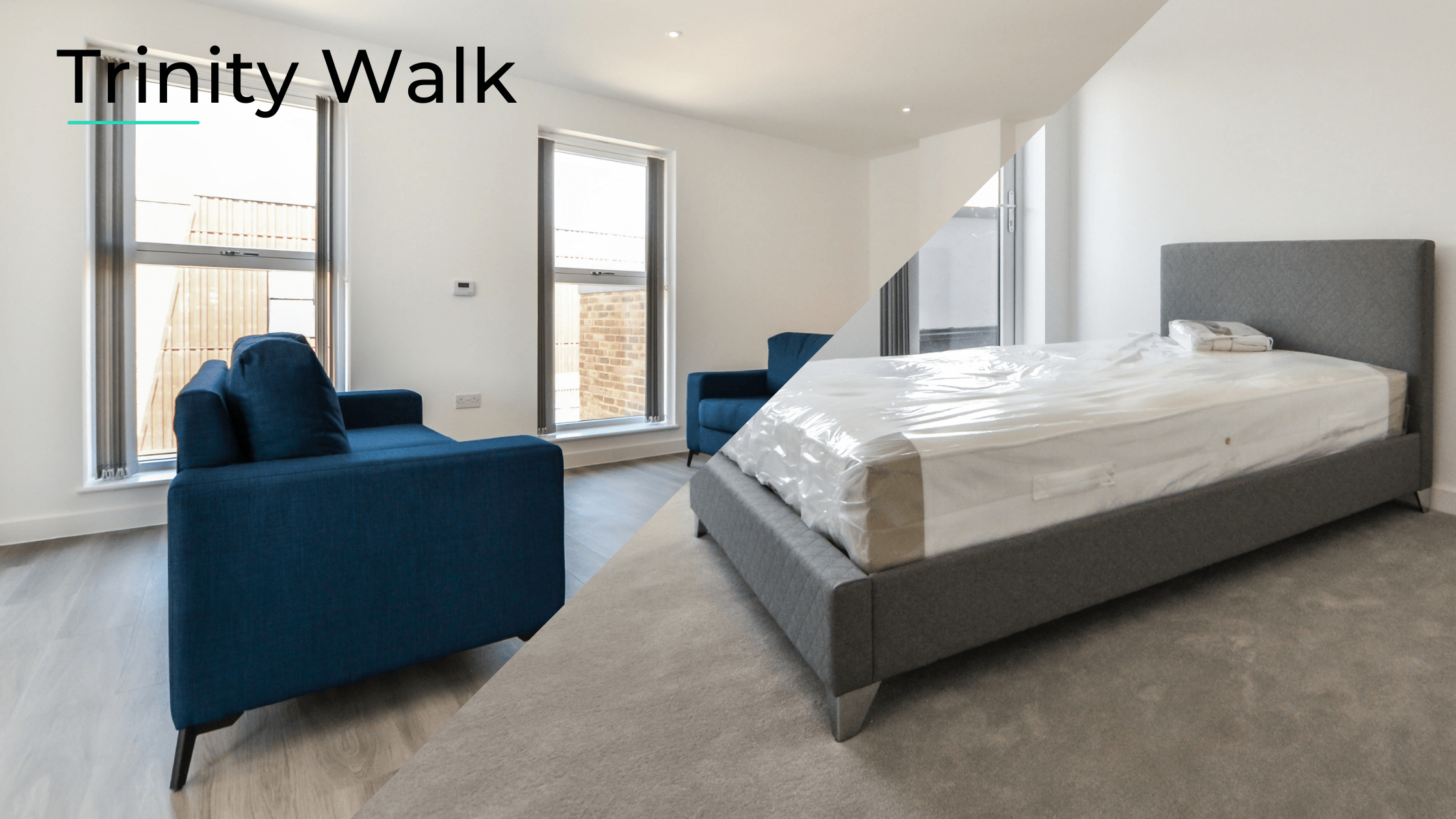 Trinity Walk is an elegant and creative development that boasts studios, 1, 2, and 3 bedroom apartments. All apartments in Trinity Walk come furnished or unfurnished with no extra charge, with an interior design scheme that seamlessly blends both classic and contemporary finishes.
Set in an amazing location close to Barrack Field, Trinity Walk can be found in the heart of Woolwich - a diverse and ever-changing neighbourhood. The development is also just a 3 minute walk from Woolwich Station, allowing residents to enjoy easy access to Central London.  Famous for being the home of the Royal Arsenal, Woolwich is always moving with the times and many of its historic buildings have been repurposed as eateries, bars and shops. Locals also enjoy browsing the popular Royal Arsenal Farmers' Market, which takes place in Artillery Square.
Interior, decorations and design: All apartments come fully furnished at no extra cost. With a selection of different apartments and layouts, the furniture has been specially selected to make the best use of each property's available space, creating a personal and homey feel to each flat.
To see a full list of our available properties at Trinity Walk, please click here.
Hopefully one of the shortlisted developments can provide your perfect rental home. If these apartments are not the perfect fit for you, don't worry, you can view hundreds more at this link. Alternatively, just give us a call and we'll be happy to start searching for you.