6 Steps to Creating a Sustainable Build-to-Rent Community
Many players in the build-to-rent sector have placed community building top of the agenda. The benefits of sustainable communities are clear - happier and more loyal customers, leading to longer tenancies, higher ERVs, and reduced marketing costs due to the impact of word of mouth. However, it seems that very few BtR operators have actually invested in the end-to-end development of such communities.
Through our experience working with leading BtR owners and operators, we are excited to introduce our '6-step playbook' to creating sustainable build-to-rent communities.
---
6 step BtR playbook
Step 1. Define your target audience
Whether you design it or not, your development will grow a certain culture and brand over time. Designing the community's characteristics in advance, is therefore key for a successful implementation. Defining it as 'people who are willing to spend £x' is not enough, given the wider picture needed.
Considering the different characters that are likely to fit with your product, their occupations, where they currently live, what are trade-offs they'll be making in order to move to your development, what alternatives they have, where they currently live, their affordability levels and what they care about. The audience must fit with the building specifications, but also with the community offering and with your brand, in order to be able to create a long-lasting authentic environment.
Step 2. Market Based on Tenant Points of Interest
Tenants' mobility patterns have vastly changed in the last decade, mostly with the millennial and international young professionals relocating to London. Cross-London movements are now a standard. In fact, our research shows that 65% of London-based tenants relocate from different neighbourhoods in the capital when they move homes, and 52% of tenants relocate from a completely different part of London. For this reason, understanding the latest movement patterns, and points of interests, allows you to market to your desired audience in the right locations, and with the relevant messaging, thus reducing marketing cost by preventing a carpet-bombing approach.
In our experience most BtR players aim to pay 3-4% of the annual revenue on marketing, however these costs tend to increase to 5-6% of the annual revenue due to channel inefficiency. You can read more about it here.
Step 3. Design for Engagement
With over 220 BtR different schemes in London, and tens of thousands of brand new rental units available, the development's long term success relies on its differentiation and uniqueness in the market, combined with the brand authenticity. Landlords therefore must plan every engagement point between the community members, scheme, and its employees.
A successful customer journey doesn't have to be incredibly rich with content. Instead, it could be about focusing on specific moments in the tenancy lifetime, such as the tenancy progression and the move-in day, the daily lobby environment, monthly update emails, or the check-out process.
Step 4. Deliver on Experience
Deliver on the promises made to prospective community individuals by providing a consistent, pleasant rental journey from the first enquiry to move-in, and throughout the tenancy. Carefully manage points of stress such as move-out, or maintenance requirement, to be able to turn a potential problematic step into the scheme's promotional strengths, which will translate into longer tenancies.
In some cases, it is not just about the speedy delivery or the high quality service, but also about ensuring that the tenants perception of it is noted and marked. Asking for feedback after every engagement is the first step, ensuring that you indeed meet the criteria you have set for yourself.
Step 5. Leverage Viral Growth
Social media creates an opportunity to leverage the uniqueness of the BtR rental experience by encouraging tenants to share their experience and day to day lives. For example, creating carefully-planned Instagram-like photo opportunities in your building, or creating the right partnerships with local brands, could build viral occupancy allowing your members to grow the community with like-minded individuals.
In order to maximise the power of community, members need to be given the chance to praise the development, and showcase your scheme. Another successful example of this is displaying Instagram moments in the hall of the building.
Step 6. Manage Vacant Units and ERVs
A phantom building with many vacant units does not just represent lost income, but also demonstrates to the local residents that they may have been wrong in their apartment choice. Fast placement of new developments to the point of minimum critical occupancy - commonly above 70% of the overall development - is important for the above reasons, and should sometimes justify a reduction of the first year's ERVs. With a higher share of occupied units, the focus should shift towards a ladder increase in annual target ERVs through renewals, and minimising void periods, which is an easier task to handle when being able to showcase the already built community, and many scheme promoters.
The 6-step Playbook in Practice
One of our clients, a leading BtR operator, was looking to lease/acquire 1,500 apartments across London, with a unique offering that was previously tested in several other geographies. The client used the 6-step approach, and has been able to exceed preliminary ERV targets by over 20% and reach 98% occupancy rates within three months per development.
Home Made worked with the client to identify their specific profiling per development, and through the analysis of past enquiries from similar specification developments in the target area, Home Made were able to define the audience and their current points of interest, and search channels and purchasing criteria. The decision to target this market segment was driven by a 73% share of previous renters fitting into those categories, the multitude of co-living spaces available, and the distribution of units being heavily skewed towards studios and equally split 2-bedroom units.
Combining our proprietary data with our client's data, Home Made were able to map community members' points of interest such as their previous area of residence and workplace location. Our study identified the highest recurring mobility patterns, which led to targeted campaigns to prospective members through location-specific online and offline marketing, along with reactivation campaigns of tenants subscribed to our database allowing the operator to achieve 40% of occupancy rate within the first month.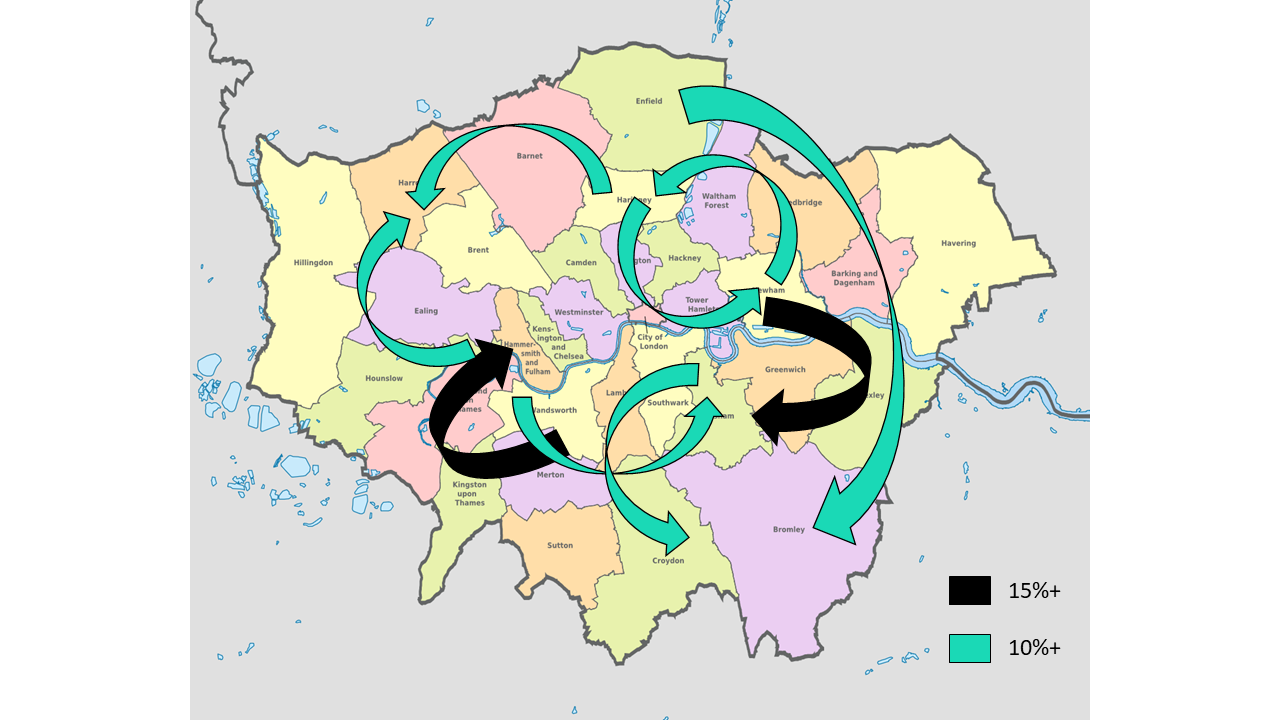 Home Made offered a tailored customer journey, including a 24hr call centre,  WhatsApp for Business enquiries, viewings 7 days a week up, and a smooth rental process. Furniture rental options were also offered, in order to address the gap between available unfurnished units and the tenants' requirements.
Home Made was able to deliver, and surpass the level of experience expected by tenants and the client, ensuring a seamless moving in experience. This feedback led to three times the estimated numbers of promoters who took part in word of mouth activity, made referrals to their network, and engaged actively with the community. In order to leverage this trend, the client, together with Home Made combined social media interactions with multiple displays in the development, and visual initiatives to create viral awareness of the scheme locally, and online leading to many of these posts being seen and engaged with by thousands of London-based users.
The Home Made "Smart Pricing" model allowed the client to further increase their ERVs at each renewal point, while better managing vacancy periods.
Combining these tactics with Home Made's competitive pricing model, the BtR operator was able to fill these developments with the desired community members, while saving 60% on marketing costs. Through extensive engagement modelling, such as member-only events, and nearby shops partnerships to increase local influence, our client was able to create a stronger community, increase ERVs by the planned rate, and reduce the previously-projected move-out rate by 35%.
At Home Made we have helped thousands of private landlords, leading PRS/BtR operators and fund owners increase assets' revenue and decrease vacancy periods. Our data-driven hybrid model allows us to understand the shifting patterns of how tenants move home. These insights enable us to effectively cross-sell applicants to relevant BtR buildings. With in-house BtR and data experts, we are also able to map rental trends across the London and equip partners with the insights to maximise ERVs and build sustainable communities.
Interested in Discussing your Scheme?
If you would like to speak with one of our expert Account Managers about BtR and our hybrid model, simply tell us how to best reach you here.