Letting property in lockdown: what have we learned?
This article has been updated following the announcement of new lockdown measures on 31st October.
As the number of reported daily Covid-19 cases continues to rise and a national lockdown is re-imposed to control the spread of the virus, many of us are understandably nervous about the months ahead. Nobody can say with any certainty how the situation is likely to evolve but there are things that we have learned from operating throughout the last lockdown that should soothe some frayed nerves, even if only with regards to your rental property.
In the below article, we look ahead to the next few months and share some insights we've acquired since working through the initial lockdown to the present. We explain why landlords shouldn't panic and outline some of the steps you can take to adapt your buy-to-let investment as we close out the year.
We know demand will recover
Landlords should take heart from the fact that the residential lettings sector has proven to be quite resilient in the face of the covid-induced recession, even as demand and prices have fallen. Whenever restrictions to control the virus are intensified we see the number of enquiries fall, and obviously the imposition of national lockdown measures will have a significant impact.
Though the physical viewings are permitted under the guidelines in their current iteration, we know that few renters are inclined to undertake in-person viewings while the official advice is to remain home wherever possible. However, if the previous lockdown is any indication, much of the demand we see retreating in the market is deferred rather than lost entirely (for example, by people exiting the private housing sector to move back in with family).
As we saw this summer, once restrictions are eased there is sharp uptick in market activity as pent-up demand is released. The below graphic sets out what we experienced at Home Made this summer. In the weeks immediately after the property sector was given the greenlight to resume its usual activities, we experienced a sharp spike in property enquiries followed by sustained weekly growth in the number of renters registering interest with us.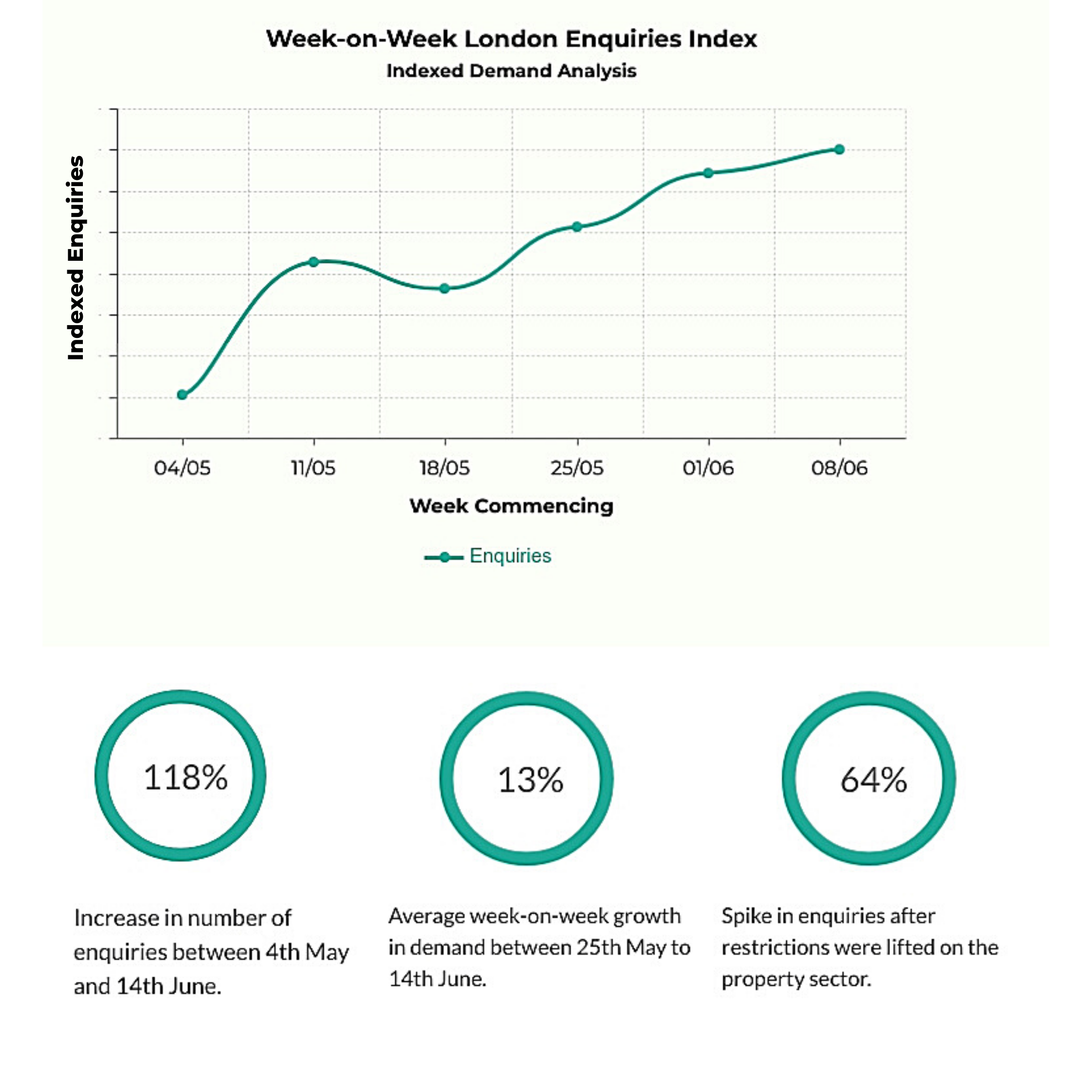 As we find ourselves living under strict lockdown measures this coming winter, remember that this too shall pass. Though the obvious caveat with the above is that summer is peak season for the residential lettings market and that this likely accounts for some of the recovery, once restrictions are eased once more demand will recover to levels more in line with what would be expected in the normal course of business.
Generally speaking, macro-economic trends prior to and emerging from the pandemic are also likely to ensure the ongoing security of your investment as a landlord. Through a combination of chronic undersupply in the UK housing market and lifestyle trends (e.g a desire to invest in experiences rather than large assets or the need to maintain a degree of flexibility to pursue different employment opportunities), more millennials and gen-zers are renting for longer. There are also early signs that institutional investors are turning to alternative residential asset classes as commercial property loses significant value - as we discussed in a previous article.
It's going to be a tough end to the year, with tighter margins and longer voids, but most landlords will weather the storm with the long-term value of their asset intact.
We have the infrastructure in place to operate remotely or according to social distancing guidelines
We are facing a drastically different set of circumstances compared to what the industry had to confront as we entered the initial lockdown. Many operators have, to varying degrees of success, invested heavily in scaling their digital infrastructure to meet the challenge posed by social distancing measures. Video viewings and contactless administration are now commonplace and we have had several months to adapt to guidelines in place for covid-secure physical viewings.
At Home Made, we were in continuous operation throughout the entirety of the initial lockdown. As a proptech, almost all of our processes were already digitised and we had the tools in place to transition to a remote working model as soon as circumstances required. As a result of our experience during lockdown and extensive prior planning, we have the infrastructure and processes in place to adapt to circumstances and maintain renter confidence in the safety of the moving process.
Though we offer high quality accompanied video walkthroughs of our properties, 84.9% of the viewings we have conducted since the 1st October have been in-person. Renters trust the processes we have in place to make their property search covid-secure, even as cases rise and certain restrictions are re-imposed to halt rising numbers of coronavirus cases.
If it does become necessary to suspend in-person viewings for the safety of staff and customers, we will continue to operate using virtual viewings with the same success as we managed to maintain during the April lockdown.
London's rental landscape has changed drastically
If you're a London landlord, you could be forgiven for succumbing to a pessimistic outlook. There has been extensive press coverage focusing on both declining rental returns in London's prime central neighbourhoods and the mass exodus of white collar workers out of the capital due to adoption of remote working. However, our research into the popularity of each London borough with renters reveals a more nuanced picture.
Though the overall number of enquiries in every area is down compared with last year (which is to be expected), there were several surprising new additions in the top 10 of the rankings, with all but one neighbourhood not featured at the top of last year's index.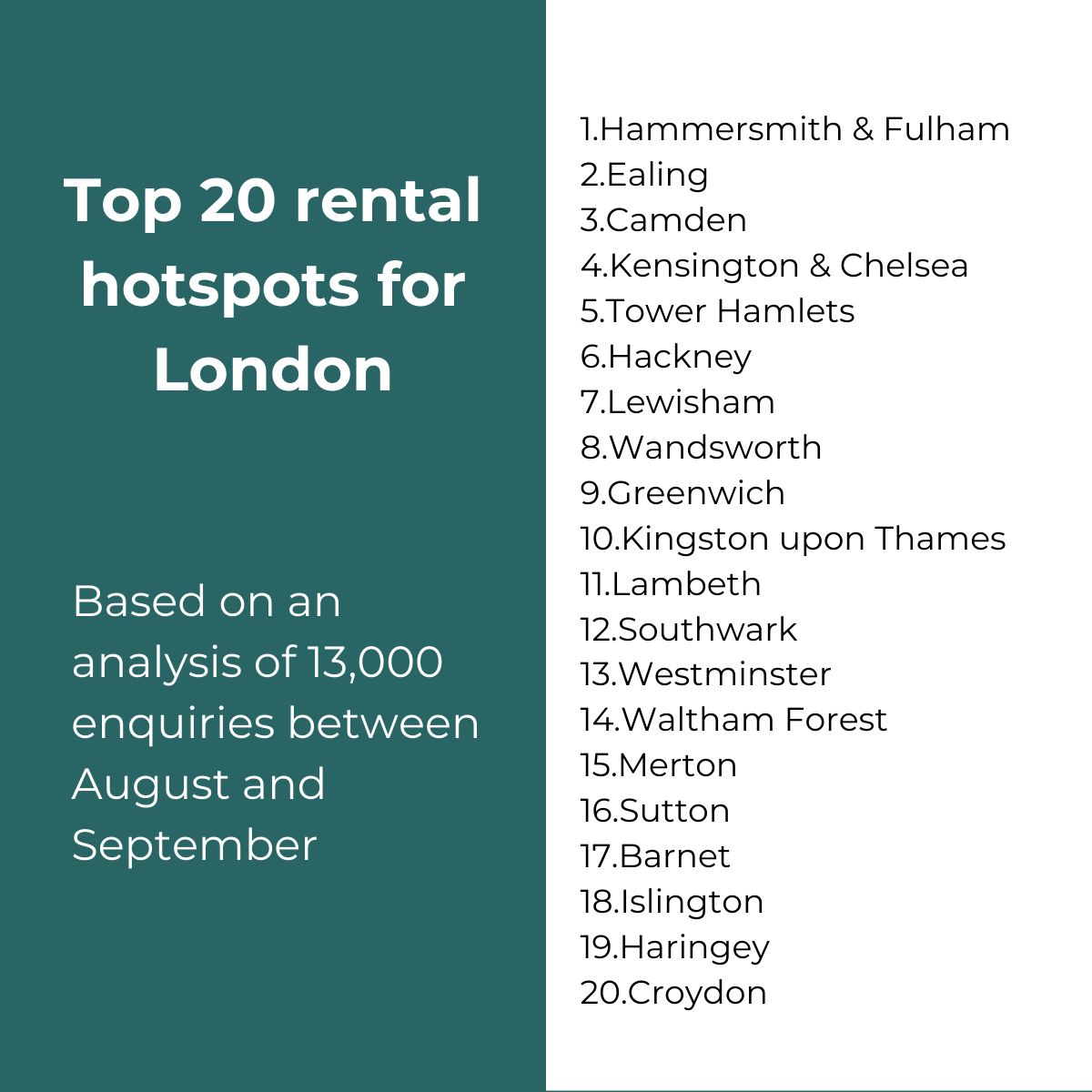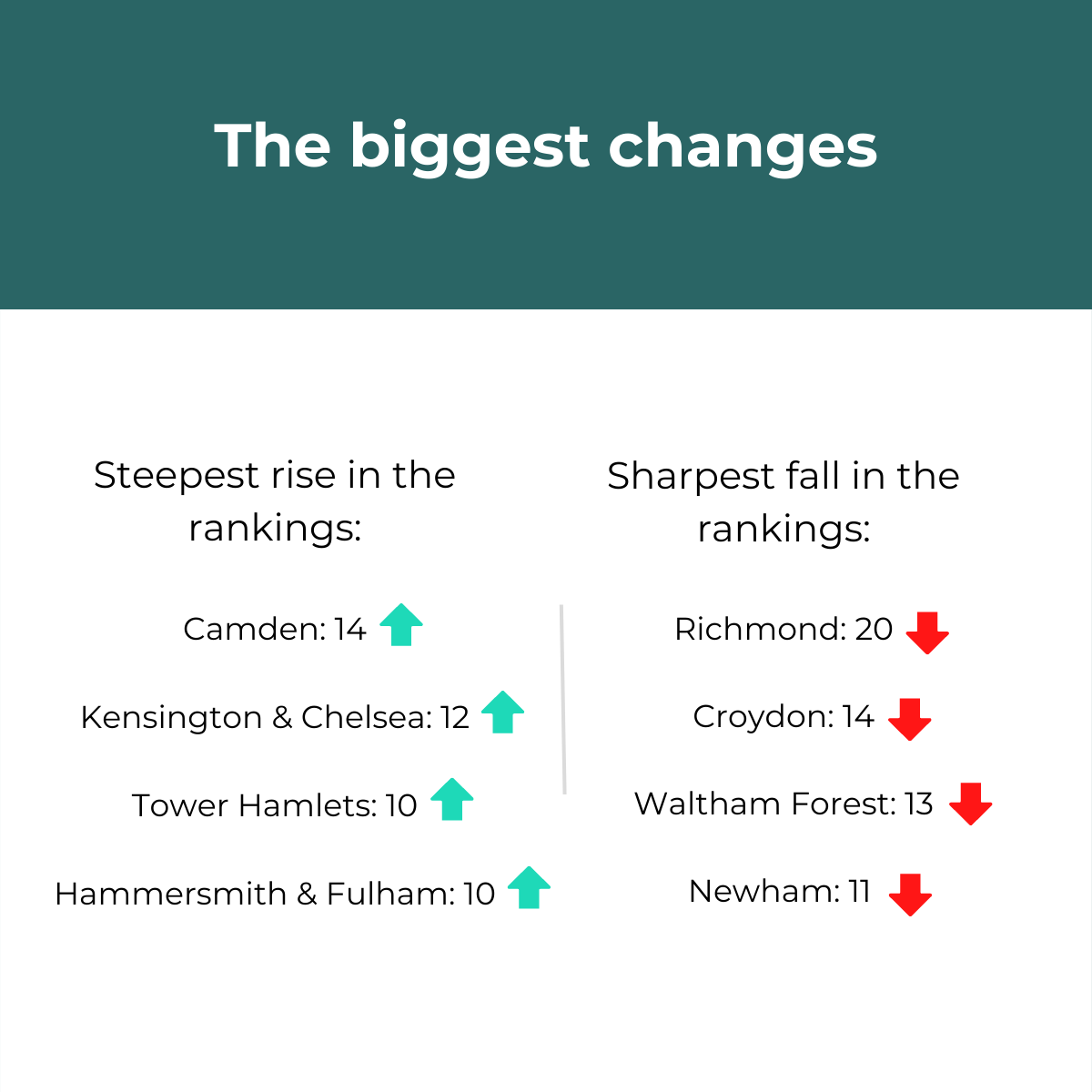 Though prices have fallen in many of London's prime central neighbourhoods (particularly where the collapse of the short-let market has led to a significant increase in the supply of rental stock as panicking airbnb landlords search for long-term tenants), London's renters are not totally abandoning London's inner city districts. As we are spending less time commuting to work and visiting the city centre, renters are looking for more green space, more desirable local amenities on their doorstep, and a thriving local community.
Though it might feel counterintuitive in the context of a global pandemic, neighbourhoods such as Hammersmith, Shoreditch, Chelsea, Camden, Canary Wharf, and Kensington have all benefited from renewed interest whereas many suburban areas have tumbled down the rankings. This is likely a consequence of renters who might have previously been attracted to places like Richmond leaving the city entirely instead.
Try not to panic if you read reports of tenants deserting London's inner boroughs - demand is down overall, but many of the renters who remain are showing a surprising willingness to move across the city to new, 'premium' neighbourhoods.
You need a contingency plan for your contingency plan
The best-laid schemes of mice and men go oft awry… We have long known that even the most detailed plan can fall victim to misfortune before it can be successfully executed (and Robert Burns didn't have a pandemic to contend with when coining the proverbial expression).
Whether you are arranging a new tenancy, attending to a maintenance issue, or renewing compliance documentation, you should expect that move in or scheduled works will be delayed. You, your current renters, incoming renters, or contractors may be required to self-isolate at potentially any moment meaning that plans will need to be rearranged at short notice.
To account for this, you will need to make sure any compliance obligations are met well in advance of any deadlines. For example, if you need to renew your gas safety certificate make sure to book in an inspection several weeks before the current document is due to expire to ensure that you don't fall foul of your legal obligations.
If you are arranging a new tenancy, be sure to include clauses in the contract establishing what will happen in the event that the move in date has to be postponed due to the pandemic.
Try to mitigate risk wherever possible and consider what will happen if your renters find themselves unable to meet their full monthly rental payments or the property remains vacant for an extended period.
The market is challenging - but those who adapt can succeed
While we want to strike a modest note of optimism, by no means do we intend to downplay the challenges that lie ahead as we close out the year. The winter months are traditionally the low season for the lettings industry in any given year, and the covid-induced recession will cause an even sharper contraction in demand.
Nevertheless, people still need to rent homes and those who adapt will be able to secure a tenancy. We learned a lot about how renter priorities were changing in lockdown - whether that meant a greater willingness to renew an existing tenancy or seek a move to a new home that meets the property requirements they revised during lockdown.
To protect your investment and avoid any issues with cash flow, you can be proactive and approach renters nearing the end of the fixed term to negotiate a renewal at slightly lower rent for a longer guaranteed fixed term. You can also adapt by broadening the profile of acceptable renters, for instance by considering two sharers where you might previously have preferred a couple.
It has been well documented how, unsurprisingly, demand for outdoor space and pet-friendly properties has skyrocketed after a lonely and claustrophobic stint in enforced isolation. While you can't conjure up a garden for your second-floor flat, you can consider relaxing your policy on allowing pets. We've written extensively on the benefits of advertising your property as pet friendly, and recent data provides further confirmation of the benefits to landlords. We crunched the numbers, and only 3.5% of active London property listings on Zoopla are advertised as pets welcome. Meanwhile, 1 in 10 renters using the property search platform on our website select the 'pet-friendly' filter to find their new home.
Landlords and renters will work together to weather the storm
The eviction ban has drawn significant attention in the press, as many are rightly concerned the thousands of renters face the prospect of losing their home in a pandemic. What has received less coverage is the extent to which landlords and renters are working together to find a way through the crisis.
Research carried out by the NRLA shows that, as of May 2020, 44% of private landlords had received a request from their renters to change in payment or the terms of their tenancy as a result of covid-induced financial difficulties. Of the landlords surveyed, over 90% responded positively to such requests and only 4% had served Section 21 or Section 8 notice.
From our anecdotal experience, we have seen many of our clients engaged in constructive dialogue to find a solution where renters have run into difficulty. Renters have been transparent and quick to communicate any issues as soon as they are aware of them and landlords have been open to working with good renters to help where they can. We have seen landlords agree to restructure contracts or renew tenancies at a lower rate of monthly rent with an agreement to review at fixed intervals - gradually returning the rent to normal once it is viable for their tenants to pay the full amount.
Not only is it great to see people come together to support one another in trying times, but landlords who support good tenants through a temporary crisis will retain otherwise reliable renters for longer.
---
At Home Made, we offer a hybrid lettings solution that adds value at every stage of the rental process. With our game-changing new landlord platform, The Property Wallet, we offer London landlords exceptional tenant-find and property management services for a low monthly fee.
Avoid expensive upfront fees and spread the cost of marketing your property with the option to pay monthly.
Free rent collection and arrears chasing.
Sign off and see all charges and payments in your dashboard.
Real-time updates on marketing, viewings, and offers.
Prices start from just £50+VAT/mo for tenant-find and £60+VAT/mo for management. Alternatively, you can pay a one-off upfront fee of £1,200+VAT for our tenant-find service.
If you would like to speak with us about your property needs, contact us via our website to find out how we can help. If you're ready to get started, book your free valuation here.
Book valuation
Check out more of our landlord advice here and follow us on Twitter, Linkedin, and Instagram for regular updates on industry compliance standards, market insights, and Home Made company news.