Living in Birmingham - A Guide for 2024
If you're considering a move to the heart of the UK, living in Birmingham might just be the choice for you. Brimming with cultural diversity, a rich industrial heritage, and a vibrant modern vibe, Birmingham is a city that welcomes with open arms and offers something for everyone.
As Britain's second city, Birmingham is often lauded for its dynamic arts scene, sprawling green spaces, and a culinary landscape that can whisk you away on a global taste tour just around the corner from your new home. Whether you're a young professional looking for the hustle and bustle of city life, a family in search of community spirit and great schools, or a retiree eager to immerse yourself in culture and leisure, living in Birmingham presents an unbeatable opportunity and choice.
Transport
When it comes to getting around, Birmingham shines with its extensive transport links, making living in Birmingham a practical choice for commuters, explorers, and everyone in between. The city is well-connected by a network of transport options that cater to every preference and need, ensuring that residents and visitors alike can navigate the city with ease.
By Rail:
Birmingham's central railway station, Birmingham New Street, is one of the busiest in the UK. It acts as a hub for the national rail network, with frequent services to London, Manchester, Liverpool, and beyond. For more regional travel, Birmingham Moor Street and Snow Hill stations serve as gateways to the picturesque towns and countryside of the West Midlands.
Metro and Trams:
The West Midlands Metro tram system offers a speedy and eco-friendly alternative for urban travel, connecting Birmingham to Wolverhampton and various stops in between. It's particularly handy for local commutes and is constantly being expanded to serve more of the community.
Buses:
An extensive bus network runs through Birmingham and out into the surrounding areas, including the iconic National Express West Midlands buses. Affordable and regular, the buses connect even the most far-flung suburbs with the city centre, making living in Birmingham convenient, no matter where you are.
Cycling:
Cyclists will find plenty of company in Birmingham. With dedicated bike lanes and the city's "Blue Routes", two-wheeled transportation is not only encouraged but also made safer and more accessible.
Things To Do
Food and Drink
If there's one thing that's abundantly clear when living in Birmingham, it's that you'll never go hungry or thirsty for lack of options. The city's food and drink scene is as diverse as its population, offering up a feast for the senses no matter what tickles your fancy. From the aromatic lanes of the Balti Triangle to the artisanal coffee shops sprouting up in the Jewellery Quarter, there's something to satisfy every palate.
Tattu
Tattu is one of the jewels in the city's culinary crown. This isn't just a restaurant; it's an experience that harmoniously blends stunning aesthetics with a modern take on traditional Chinese cuisine.
Situated in the heart of Birmingham, what was once the basement of the Grand Hotel. Tattu takes diners on a sensory journey. From the moment you step inside, you're enveloped in an atmosphere that's both intimate and grandiose, with every detail meticulously designed to create a captivating ambience. The restaurant is a visual feast, featuring intricate tattoos-inspired artwork that brings a contemporary edge to the age-old practice of storytelling through body art.
The food at Tattu is a modern fusion that respects traditional Chinese flavours and techniques. Each dish is crafted to be a work of art, both in presentation and taste, ensuring an unforgettable dining experience. Whether you're a local or just exploring, Tattu promises to be a highlight of your gastronomic adventures in Birmingham.


The Botanist
The Botanist is a venue that captures the lively essence of the city's social scene. Located just a stone's throw away from Temple Street, it's a haven for those who appreciate a botanical-infused ambience paired with a fantastic menu.
One of the highlights of The Botanist experience has to be the live music that draws a crowd every Friday and Saturday evening. The blend of soulful melodies with the chitter-chatter of content patrons adds a layer of vibrancy that makes for an unforgettable night out.
Moreover, The Botanist is a dream for dog owners living in Birmingham, as it warmly welcomes our four-legged friends. It's the perfect spot for anyone looking to unwind after a walk with their pup or just to catch up with friends, canine included, over a drink and food in a relaxed environment.

1000 Trades
1000 Trades is an absolute must-visit, encapsulating the creative and industrious spirit of the city. Situated in the bustling Jewellery Quarter, this neighbourhood bar celebrates the rich heritage of the area, once home to countless craftspeople and innovators.
1000 Trades is a testament to the city's history, offering a down-to-earth atmosphere where the past meets the present. It's the kind of place where you can strike up a conversation with local artisans or mingle with new friends, all while enjoying a selection of finely crafted drinks and a diverse menu that showcases the best of local and seasonal produce.
The bar itself is a celebration of craftsmanship, from the carefully restored interiors that nod to the building's industrial roots, to the selection of craft beers and natural wines that highlight the expertise of modern-day brewers and vintners. And it's not just about the beverages; the kitchen plays host to a rotating roster of street food vendors, ensuring that the culinary offerings are as dynamic and engaging as the venue itself.

The Loft
The Loft in Birmingham is a bright gem in the city's nightlife crown, perfectly placed for those living in Birmingham or just exploring its rich cultural tapestry. Perched in the trendy and historic Jewellery Quarter, The Loft offers a vibrant mix of good food, excellent drinks, and an upbeat atmosphere.
This stylish venue brings a contemporary touch to the area, with a chic interior that's both welcoming and sophisticated. The Loft prides itself on being a friendly, inclusive space where everyone is welcome, creating an atmosphere that's as suitable for a casual after-work drink as it is for a full-blown celebratory night out.
Food at The Loft is a delightful affair, with a menu that combines comfort food classics with creative culinary twists. Their commitment to using fresh, quality ingredients means you're guaranteed a satisfying meal that feels like a treat every time.
When the weekend rolls around, The Loft comes alive with the sound of live music, offering a platform for local bands and DJs that keep the vibe fresh and energetic. The lively beats make it an ideal spot for letting your hair down on a Friday or Saturday night.

Things to do
Explore the Jewellery Quarter
Exploring the Jewellery Quarter in Birmingham is akin to stepping into a page of history that's still very much alive and sparkling. Known for its rich heritage as the centre of Britain's metalworking industry, the Jewellery Quarter is one of Birmingham's most distinctive and enchanting neighbourhoods, offering a unique blend of the old and the new.
Living in Birmingham affords you the luxury of frequenting the Jewellery Quarter, which is not only a haven for those with an appreciation for fine craftsmanship but also a bustling hub of culture and creativity. With over 200 listed buildings and a thriving community, this area is a treasure trove of art, music, and gastronomy.
The streets are lined with independent boutiques and family-run businesses that have been there for generations, selling handcrafted jewellery that gives the area its name. It's the perfect place to find a special piece that's been crafted with care and expertise. For those who are curious about the skills behind the sparkle, the Quarter's Museum of the Jewellery Quarter offers a fascinating glimpse into the city's industrial past.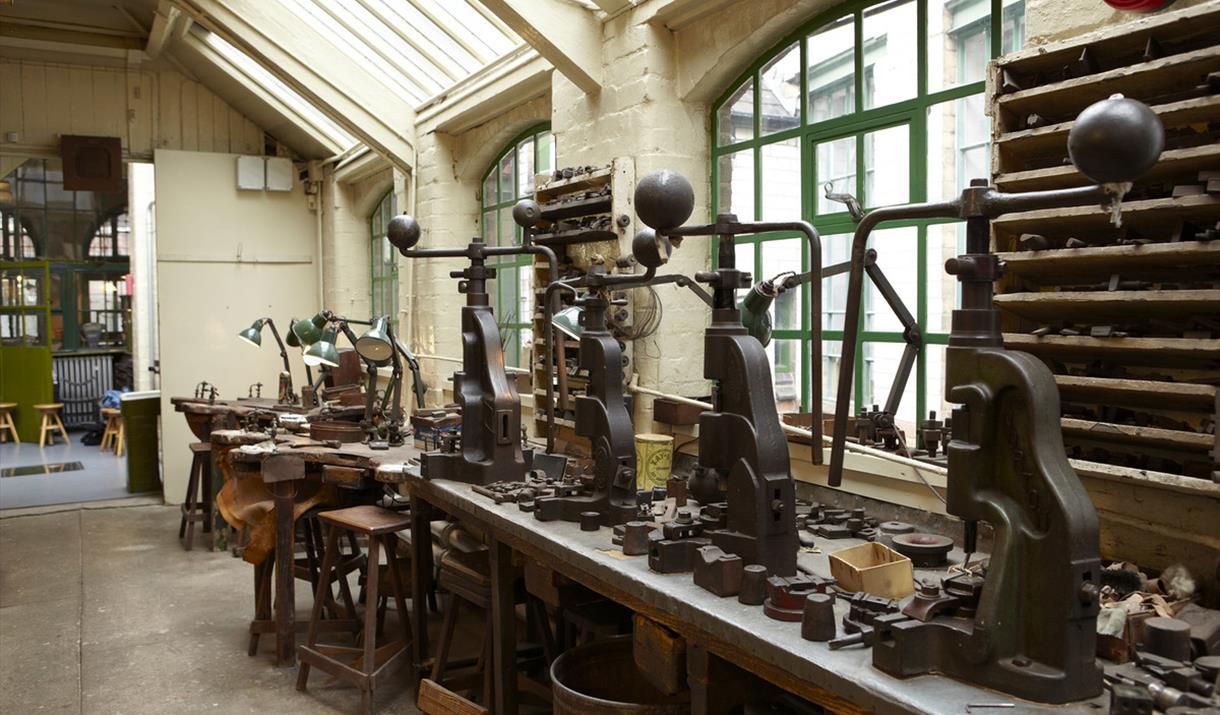 Botanical Gardens
The Birmingham Botanical Gardens offer a serene escape from the urban buzz, a green paradise perfect for nature lovers or anyone seeking a tranquil spot to unwind. For those living in Birmingham, these gardens are not just an attraction but a beloved local landmark, a place where nature's beauty is on year-round display.
Sprawled over 15 acres in Edgbaston, just a short journey from the city centre, the gardens are a celebration of horticultural diversity, featuring a range of environments from tropical rainforests to arid deserts, all housed within Victorian glasshouses. It's a place where you can marvel at the intricate beauty of exotic plants and the delicate fragrances of blooming flowers, all within the heart of the city.
The outdoor spaces are equally compelling, with landscaped lawns, vibrant floral borders, and a variety of thematic gardens, including a Japanese garden, providing inspiration and solace for visitors. The Botanical Gardens aren't just a feast for the eyes; they offer an educational journey too, with plant collections that include rare, threatened, and historically significant species.
For families living in Birmingham, the Botanical Gardens are a treasured resource, offering a packed calendar of events throughout the year, from educational workshops for children to music and theatre performances set against the backdrop of nature's splendour. It's also a favoured spot for wellness enthusiasts, who can often be found practising yoga or tai chi in the peaceful surroundings.

ThinkTank
Thinktank, Birmingham's award-winning science museum, is a modern marvel located in the heart of the city's Millennium Point complex. It's a place that fascinates and educates in equal measure, a treasure trove of discovery for those living in Birmingham or just visiting.

With four floors of interactive exhibits and historical collections, Thinktank offers a journey through science and technology that captivates curious minds of all ages. It is an embodiment of Birmingham's innovative spirit and industrial heritage, presenting a wide array of topics from steam engines and spitfires to robots and the human body.
As you step into Thinktank, you're greeted by a dynamic space where science comes to life. Children and adults alike are thrilled by the hands-on galleries, such as the Science Garden, which blends outdoor fun with practical lessons in mechanics and engineering, and the Planetarium, where visitors can embark on a stellar cosmic voyage without leaving Birmingham.
The museum's commitment to education is evident in every exhibit, providing a fun, interactive environment where learning feels like an adventure. For those living in Birmingham with young families, Thinktank is a valuable educational resource, offering workshops and activities that engage young minds and stimulate an interest in science and technology.

F1 Arcade
The F1 Arcade in Birmingham is the city's high-octane answer to the call of all motorsport enthusiasts and fun-seekers. As a vibrant addition to the city's entertainment options, it's the perfect venue for anyone who's ever dreamed of the thrills that come with being a Formula 1 driver.
This state-of-the-art venue puts you in the driver's seat with its advanced racing simulators, giving you the chance to experience the adrenaline rush of a Grand Prix from the comfort of a cutting-edge, immersive environment. Whether you're a seasoned sim racer or a novice eager to taste the fast lane, the F1 Arcade is designed to cater to all levels of skill and enthusiasm.
For those living in Birmingham and looking for an exciting group activity or a unique way to spend an evening, the F1 Arcade offers an unforgettable experience. With its fleet of simulators that use the same technology as real F1 teams for driver training, you can race against friends, family, or fellow enthusiasts, adding a competitive edge to your day out.

Is it for you?
Fancy a scenic location in north London with a myriad of options to eat, drink and wander? Muswell Hill's your answer! With easy access to the heart of the city and panoramic views of the London skyline, Muswell Hill's charm is undeniable.
But that's not all – we at Home Made have some stunning apartments waiting just for you in this vibrant area. Why not have a look? You can find them here.