Formerly the site of the world's largest enclosed dock, Royal Docks is now an up and coming residential quarter in London's East End. Following billions of pounds in investment and an extensive clean-up project, acres of derelict post-industrial landscape have been transformed into a stunning waterside neighbourhood with attractive modern architecture and high quality housing.
Thousands of high-specification, modern flats have been built over the past decade in a variety of residential and mixed-use schemes. As London's only designated Enterprise Zone, Royal Docks has also benefited from an influx of new businesses, with further projects already greenlit for development in the next few years. These developments, along with its proximity to Canary Wharf and beautiful stretches of waterside walkway, have made Royal Docks hugely popular with young professionals.
Originally constructed between 1855 and 1921, the three docks that together formed the docklands area were a huge commercial success. They were London's principal port and the epicenter of Britain's global trading network until the mid-20th century. Much of the area's heritage has been preserved during subsequent redevelopment, with many docklands industrial buildings now converted into new homes and businesses. The most prominent example is the Millenium Mills.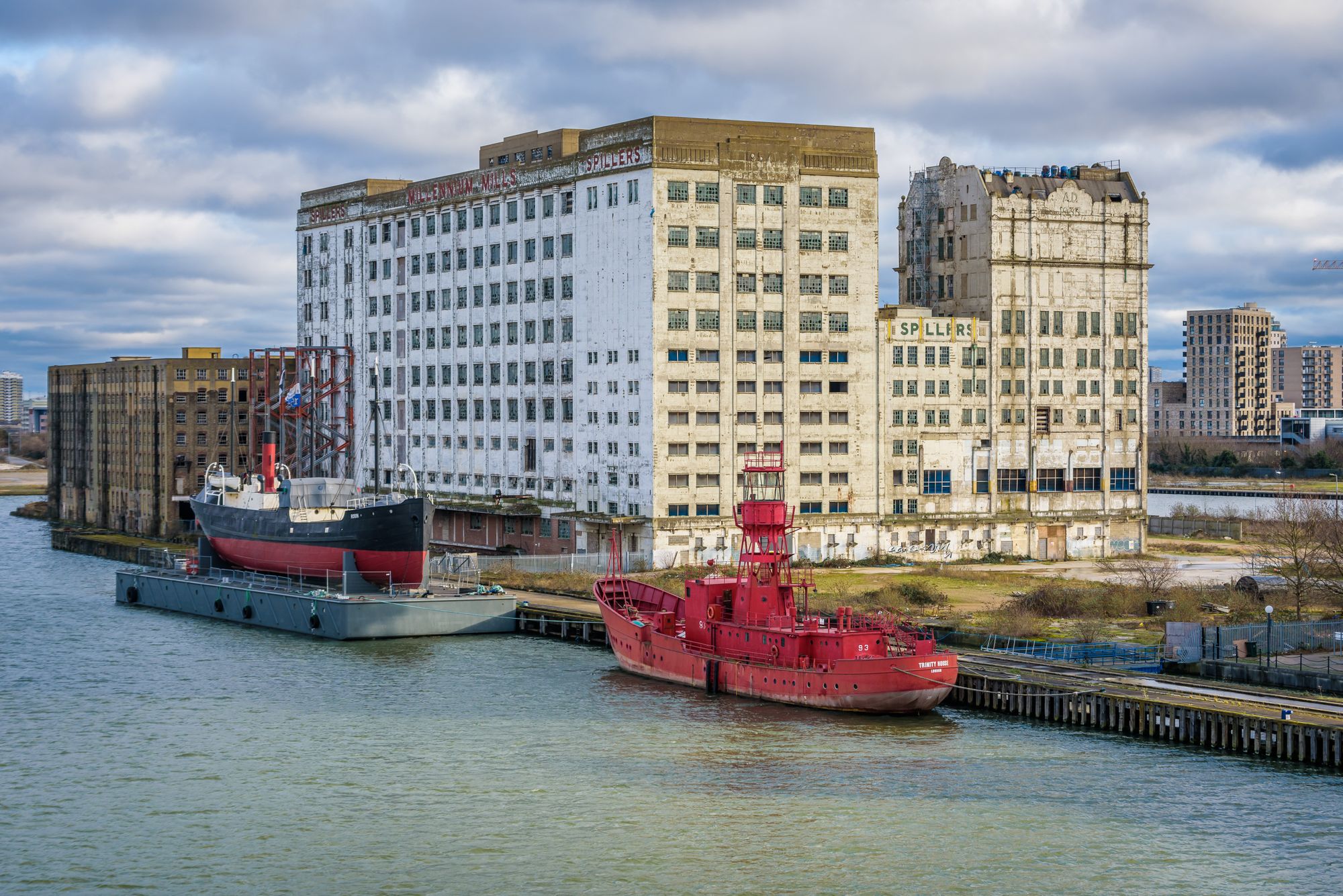 This abandoned turn-of-the-20th-century flour mill is a beloved icon of post-industrial Britain and has featured in numerous films, TV shows, and music videos. The site is now being developed into a cutting edge commercial hub and thousands of new homes, but the architect overseeing the project is clear that the original character of the building will be preserved.
Read our guide below to learn more about this exciting neighbourhood, which is providing a blueprint for the future of residential city living.
Transport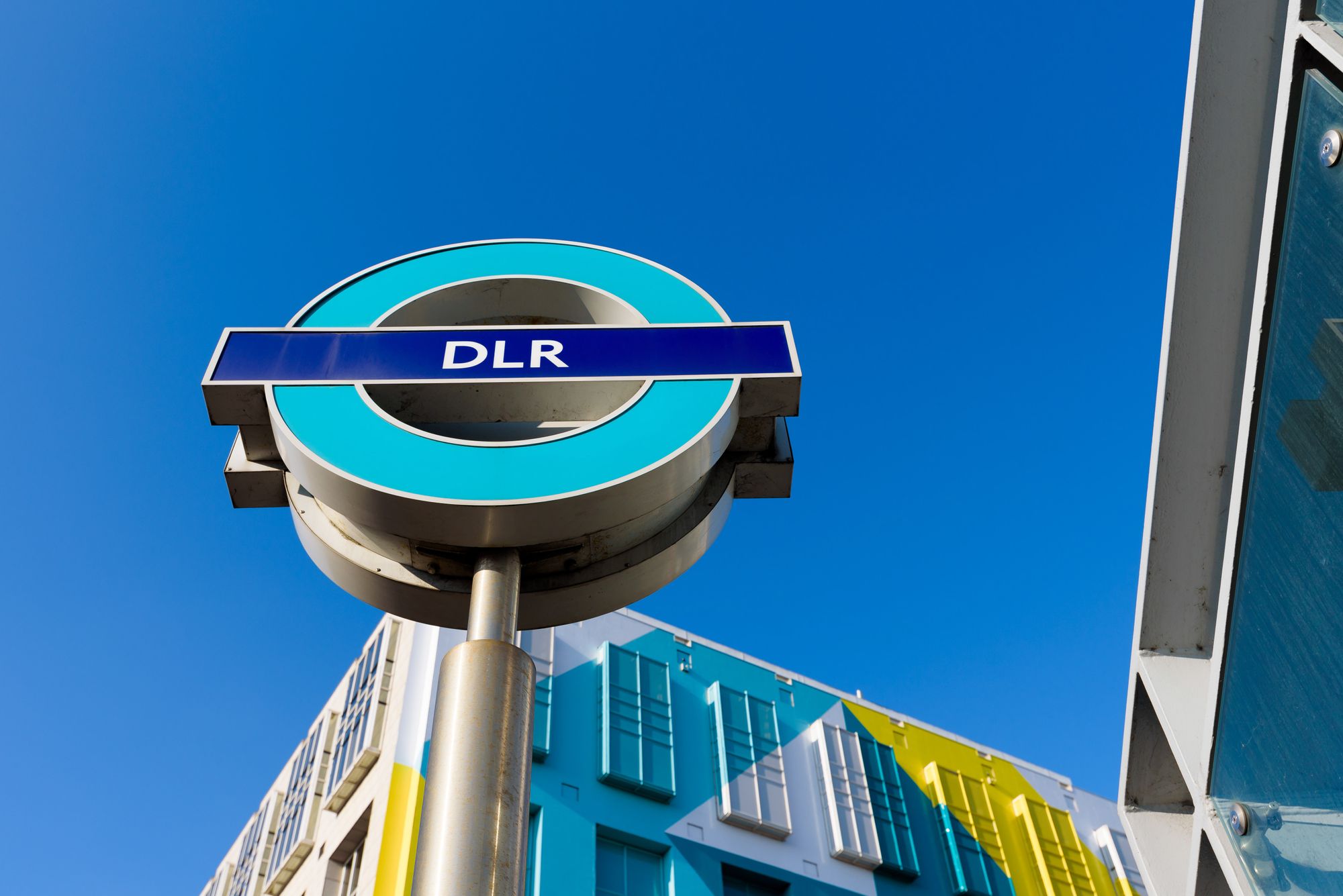 Royal Docks is located in TfL travel zone 3 and is connected to the wider London transport network by the DLR. There are 12 DLR stations in total covering the local area and Canary Wharf, Stratford, and the City are all within easy reach.
The journey to Canary Wharf from any of the Custom House, Pontoon Dock, West Silvertown, or Royal Victoria DLR stations takes roughly 15-18 minutes, and the journey to Bank DLR station is 20-25 minutes.
Canning Town station can be reached from the Docklands via the DLR in 5 minutes where commuters can change for the Jubilee line for fast services into central London. West Ham station is 10-15 minutes from most E16 DLR stations, and passengers can change here for District, Hammersmith, and c2c services.
Forthcoming Elizabeth Line services will transform travel in Royal Docks, with services running to Canary Wharf in 3 minutes, Liverpool Street in 10 minutes, and Bond Street in 17 minutes.
London City Airport is within easy reach and connects to over 30 international destinations.
Food & Drink
The team behind Heroica have lovingly transformed a classic London bus into a pizzeria and rooftop bar. The red double decker, kitted out with a wood-fired oven and both indoor and outdoor seating areas, serves traditional Neapolitan pizza to hungry punters from E16 and beyond. Don't look at the bus and assume that Heroica relies on gimmick to draw in its bustling trade - people line up outside on a regular basis because it serves the best pizza in the Royal Docklands. Pop down to the Royal Victoria Dock for a pizza and see for yourself how Heroica maintains its outstanding 5-star rating on TripAdvisor.
This Spanish tapas joint is the closest restaurant to ExCel London and serves up its own delicious take on all the staple small plate dishes from Spain and occasionally beyond. Boasting the warm, brick-clad interior typical of converted Dockland warehouse locations, the dining space is expertly furnished with long wooden benches and tables -  perfect for loading up with lots of different small plates to create a communal Iberian feast. Wash down your meal with a bottle of something Spanish from their extensive wine, beer, and cocktails list.
This quirky independent cafe is a favourite with local residents thanks to its excellent food, warm service, and contribution to the local community. Run by the charity Ascension Community Trust, the cafe works to improve the quality of life for local residents by offering work placements  and training opportunities to those with complex needs, and hosting a variety of regular community events. A genuine community institution, you can support the cafe by donating on the Ascension website or dropping by to enjoy one of their fantastic breakfasts, sandwiches, or daily specials.You'll struggle to find a Full English this good for just £6 anywhere else in London!
Culture & Leisure
ExCel London is the city's largest and most versatile events venue. This 100-acre exhibition and convention centre is located on the north quay of the Royal Victoria Docks and hosts over 400 world-leading events every year. In addition to the many trade expos taking place on a weekly basis, the ExCel also provides visitors the chance to experience live entertainment, fine dining, street food, and Europe's largest escape room. The most popular annual event is the MCM London Comic Con - the UK's largest pop culture convention!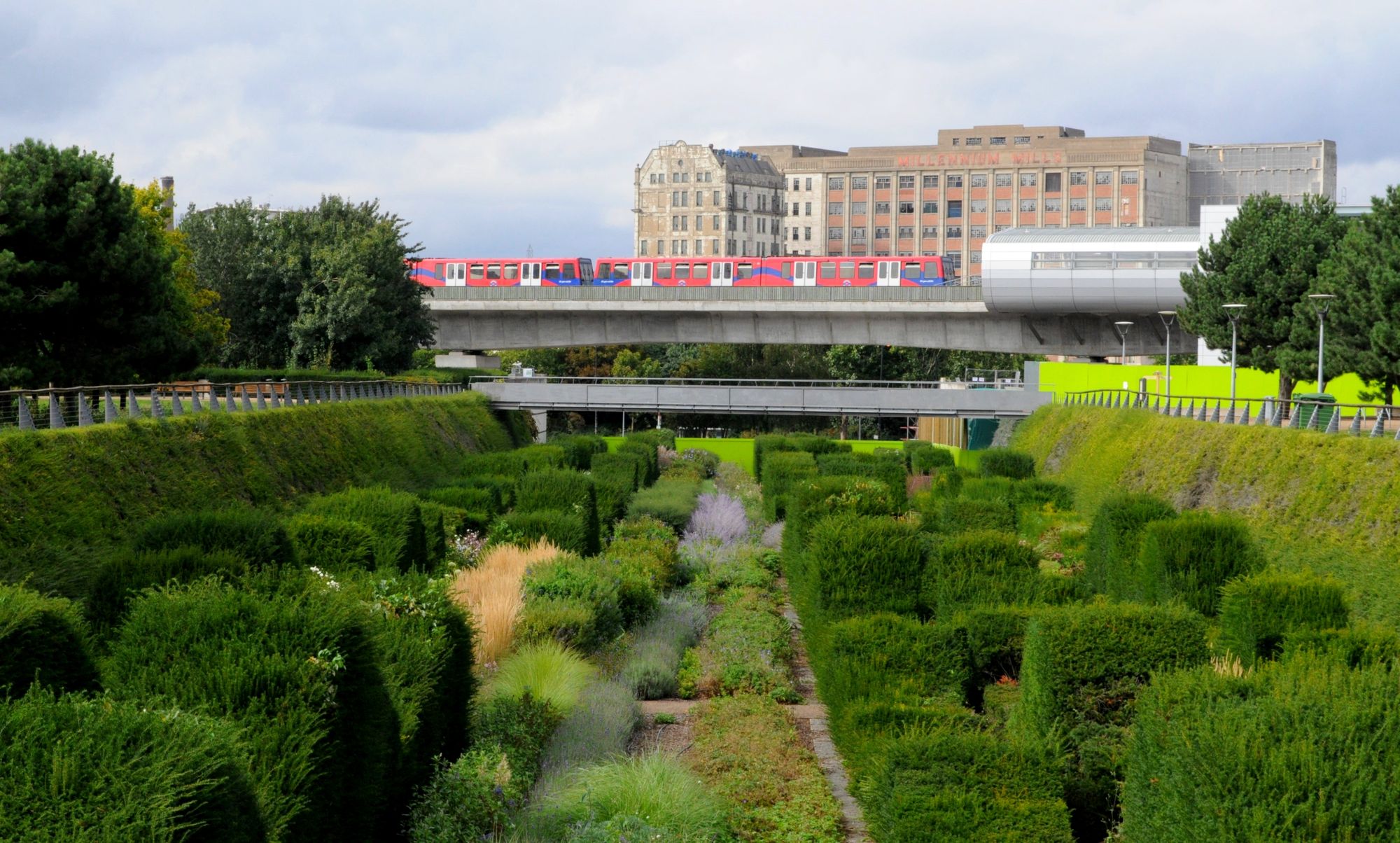 This tranquil public park, located adjacent to Pontoon Dock DLR station, has won multiple awards for its architecture and design. Its most striking feature is the 'Green Dock', a 130-yard stretch of sunken garden running diagonally across the park. Intended as a tribute to the site's Docklands heritage, the innovative landscaping and diverse colour palette of the shrubbery is intended to mimic the waves of the Thames and forms a protected microclimate for plants and wildlife. Further features at the park include a cafe, children's play area, basketball courts, 32 fountains, and stunning views of the Thames Barrier (itself a triumph of post-modern architecture).
Owned and operated by Siemens, The Crystal is a highly sustainable events venue and pop-up innovation hub on the waterfront at the Royal Docks. Its innovative design and use of smart technology allow the building to set a new benchmark in sustainable development, with 70% lower carbon emissions than comparable office buildings and a total annual heating bill of £0. In addition to a diverse selection of one-off events and pop-ups, the site also includes a permanent exhibition dedicated to sustainable development and a new Royal Docks programme committed to telling the evolving story of the local area.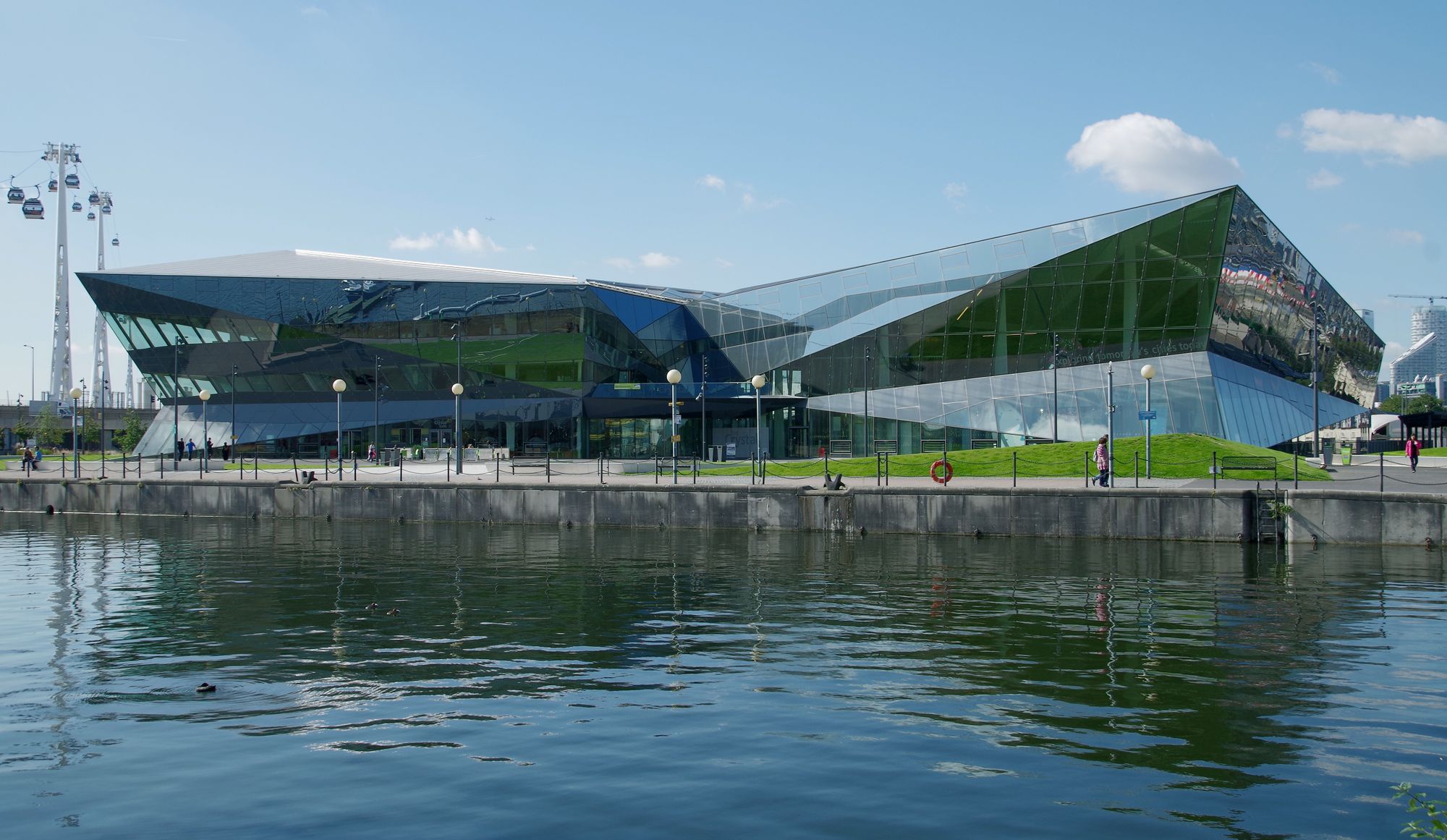 If you're interested in making the move to Royal Docks click here to view our available properties in the area. We have a number of exceptional modern flats available in the popular Millet Place development overlooking Thames Barrier Park, offered with flexible furnishing options and a host of resident-only amenities.
Read more on our blog and website, or follow us on Twitter, Instagram, and Linkedin for useful info and updates for renters in London.
Check out our article for tips on how to make your covid-secure property search successful.